After last quarter's disappointing fall in revenues and profits, NetApp's latest quarterly results showed annual revenue growth and a profits recovery.
Separately, the perked-up NetApp has just bought CacheIQ, a cache-based filer accelerating technology start-up, for a secret sum. The Austin, Texas company had placed a redirect to NetApp's site just hours after the announcement.
Quarterly results
For its second fiscal 2013 quarter, NetApp revenues were $1.541bn, 2 per cent up on the year-ago quarter's $1.51bn, and a satisfying 7 per cent higher than the first 2013 quarter's $1.445bn. Profits recovered even better: this quarter they were $110m compared to $64m last quarter. A comparison with the year-ago profit of $165.6m is not as promising, but it still represents a 72 per cent profits increase on Q1.
Reuters reported "higher service and maintenance revenue offset weak product sales".
The revenues were what NetApp had expected, with profits being a tad higher. Tom Georgens, NetApp's CEO and president, said: "We saw a strong uptake of NetApp Data ONTAP 8 and clustered Data ONTAP," which is reassuring too, after so much effort was put into developing the darn software.
NetApp's outlook for the next quarter is for revenues between $1.575 billion and $1.675bn, resuming a steady growth trend.
Stifel Nicolaus analyst Aaron Rakers said in a note: "Our model [reflects] a declining organic growth trend and no appreciable uptick in NetApp's E-Series (Engenio) branded revenue relative to the weak (sub-$5M/qtr) trend seen over the past several quarters."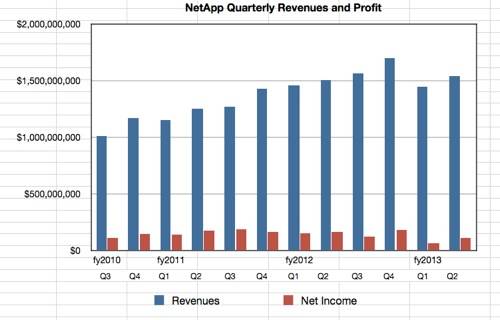 NetApp revenues and profit to Q2 fy2013. Click image for larger view.
Rakers also notes that NetApp had more than 1,500 FlexPod customers at the end of the latest quarter, about 200 up on the total at the end of the previous quarter. FlexPod is the NetApp-Cisco-VMware reference architecture for a converged server+storage+networking stack, competing with VCE's Vblock systems and VSPEX reference architecture. There is a suspicion that NetApp is doing better with FlexPods than EMC, a partner in VCE along with Cisco and EMC subsidiary VMware, is doing with Vblocks and VSPEX'.
CacheIQ acquisition
NetApp said this about the acquisition:
The acquisition will provide NetApp with intellectual property that extends its capabilities to support non-disruptive operations for enterprise data centre environments. NetApp will integrate this intellectual property into its product offerings over time.
CacheIQ, background here, is an early stage start-up, founded in 2010 and having raised just $6m from angel investors - meaning not actual venture capital firms - in February last year, on the promise of its Rapid Cache technology. This is filer caching which puts filer data into DRAM or flash memory for faster read access. CacheIQ has said its software "automatically accelerates the active data set, but gives storage teams the ability to optimize network storage performance through simple, yet intelligent policies."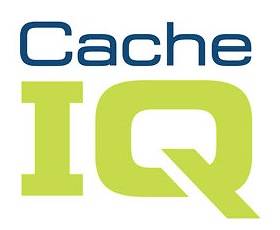 CacheIQ competed with Avere in the filer accelerator market and, like that company's FXT products, its DS100 nodes could be clustered for scale. However CacheIQ tech is transparent to servers and the arrays, as it is not an NFS mount point, and it started out as a read caching product.
The company was co-founded by CEO Joel Trammel. Greg Dahl was another co-founder and he was EVP of products and strategy. A third was Keith Carpenter, VP sales, previously at Storspeed, as was Dahl, NetApp and then Auspex - it's a small world in filers. A 5X multiple on its seed funding would give a possible acquisition price of $30m.
StorSpeed was founded by Greg Dahl around 2009, using custom hardware for its filer caching technology and crashed after less than six months. This event was followed by Dahl and others then co-founding CacheIQ and using off-the-shelf hardware to run the StorSpeed software technology.
Ex-CacheIQ marketing SVP Steve Harriman's LinkedIn notes say: "Cache IQ was an enterprise storage solutions company delivering the industry's first intelligent, network-based caching and analysis product designed to tame the out-of-control growth of network-attached storage while improving critical application performance."
Looking at NetApp's flash caching technologies we see three of them, with no obvious hole to slot CacheIQ into:
Flash Pools - bundles of disk and SSD to store data inside ONTAP arrays,
Flash Cache - flash read caching by ONTAP array controller, and
Flash Accel - server PCIe flash card-based caching using third-party PCIe flash cards to cache ONTAP array data accessed by the server.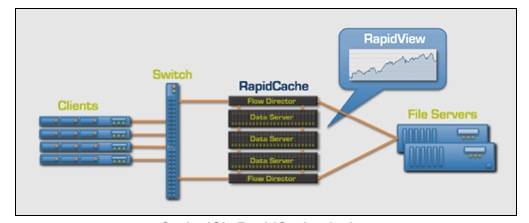 CacheIQ's Rapid Cache technology schematic
The CacheIQ product runs in a DS100 commodity server-based box sitting inline in front of a filer, a NetApp ONTAP array for example, speeding access to its data. There's little difference between having a flash cache in front of the filer and a flash cache in the filer's controller. Both essentially do the same thing, so why has NetApp bought CacheIQ?
Rapid Cache identifies an application's active data set by monitoring the data flow between a server app and the filer. This data set is then loaded into the CacheIQ host server's DRAM and flash. Priority levels can be set for data sets to modify this raw mechanism. A Rapid View analysis tool shows what's going on and helps sysadmins tune the system.
Perhaps there is an angle here for ONTAP 8's cluster mode, not that NetApp is saying.
We think NetApp going to add Rapid Cache tech to its Flash Cache technology. It must be great tech that NetApp's own engineers can't create themselves. You don't buy secret sauce when you can mix it up yourself. ®