Humax HDR-1000S Freesat+ recorder with FreeTime
TV from space, time travel by broadband
---
The all-new Freesat recorder has arrived, after a long gestation, sporting a nifty user interface and the FreeTime system that integrates catch-up services such as the iPlayer and ITV Player into a programme guide that goes back in time, as well as ahead for planning hard disk recordings.

Viewing in style: Humax toys with design ideas on its glossy HDR-1000S Freesat box sporting smooth corners and tapered sides
There are inevitable similarities to the recently launched YouView. The first off-the-shelf YouView product to hit the shops was also made by Humax and the (non-discounted) prices are the same. The basic version of the recorder has a 500GB capacity, with a 1TB edition available for £299.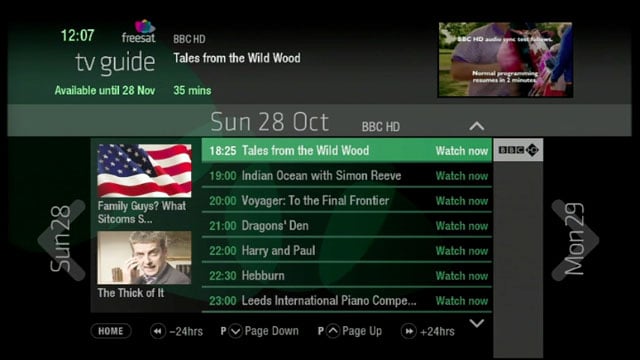 The EPG also goes back in time, linking through to the relevant online catch-up player, like TiVo and YouView
As with YouView, the backwards EPG is one way of launching the relevant online player to catch recently missed shows. There is also a separate menu page for accessing each player individually and browse around. 4oD and Demand 5 both have icons here, though at the time of writing, they were still "coming soon". A remote-controlling mobile app, similar to the Sky+ version, is also in the works.

A standard set of connectors, including the all-important Ethernet port – a second USB port is at the front
The twin-tuner HDR-1000S is quick and easy to set up. If you are an ex-Sky customer, or there's a dish on the building, that's all you'll need, plus a broadband connection for networking and/or catch-up TV. Humax recommends a wired Ethernet link (or Powerline adaptors or Wi-Fi dongle) with at least 2Mbps of speed. If you don't have a dish, you'll need one fitted. You can use the receiver in "normal" set-top box mode to view – but not record – free-to-air satellite channels that aren't part of Freesat's line-up.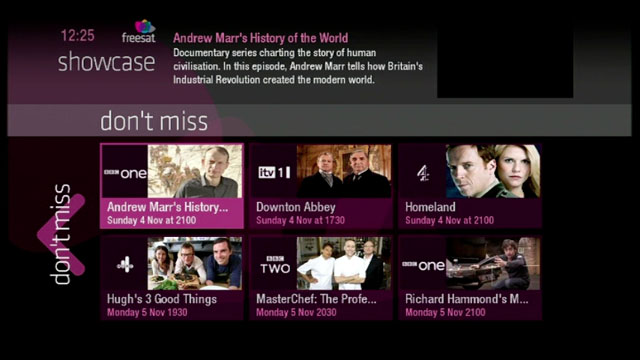 The Showcase menu is Freesat's pick of recent or upcoming shows
The new Freesat TV guide starts with a simple now and next listing. Press Back on the cursor and you can browse what you missed and – if available online – go straight to the catch-up player. Press Forward on the guide and you can set future recordings in the usual way, with prompts for HD versions, series links and alternative showings, again, when available. There's also a curated area called Showcase that picks upcoming TV highlights or recent ones using catch-up.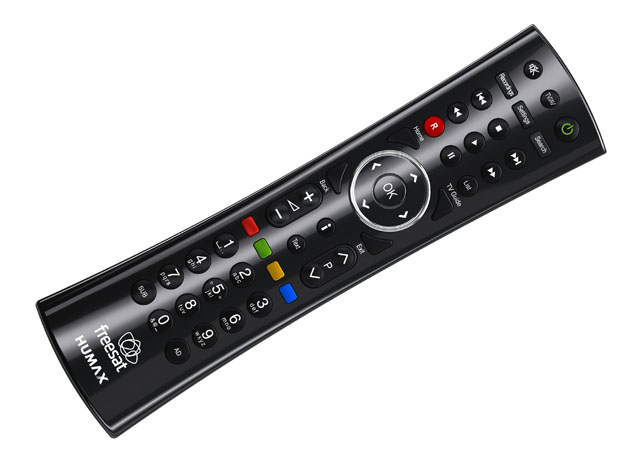 A near-identical remote control to Humax's YouView box, and pretty user friendly
The overall search feature appears on a different page than the guide and works for future TV and radio programme names, though not catch-up TV, differing from YouView here. You can sort the EPG by genre if you want to narrow down channels by type. Catch-up TV is not searchable unless you go to the individual portal – such as the iPlayer section – and look there.