ViewSonic VSD220 22in Android mega tablet
The display with ideas above its workstation
---
Depending on how you might want to look at it, the ViewSonic VSD220 is either an expensive 22in monitor or an inexpensive tethered Android tablet. But then you'd be missing the point: it's actually both and neither. It's an unusual mashup for which ViewSonic deserves credit simply by giving it a go.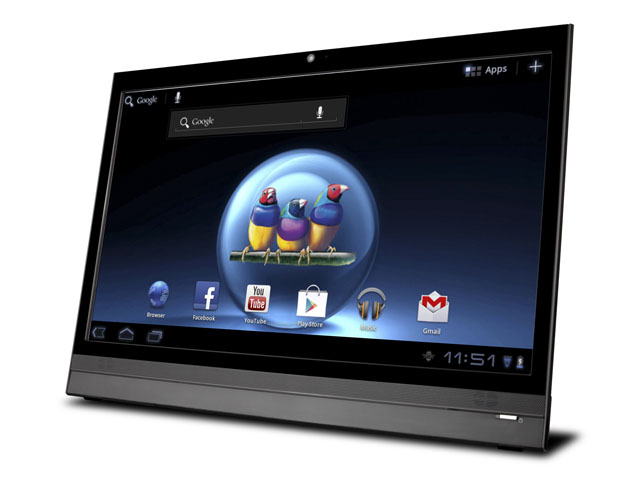 Launching Android 4.0 on a 22in display is unexpectedly delightful: it still looks great
The product is essentially an all-in-one desktop computer based on a dual-core 1GHz OMAP 4430 chip running Android 4.0 (Ice Cream Sandwich). Referring to it as a "22in tablet" is just silly: as Chromebooks have ably demonstrated, just because a computer runs Android doesn't mean it's a toy.
As with any all-in-one desktop computer, the VSD220 looks at first like nothing more than a large monitor, in this instance a 22in LCD (LED-backlit) display offering a native resolution of 1920 x 1080 pixels. Being a touchscreen device, it sensibly eschews a central column for a more stable lean-back stand with rubber feet to resist gentle pushing.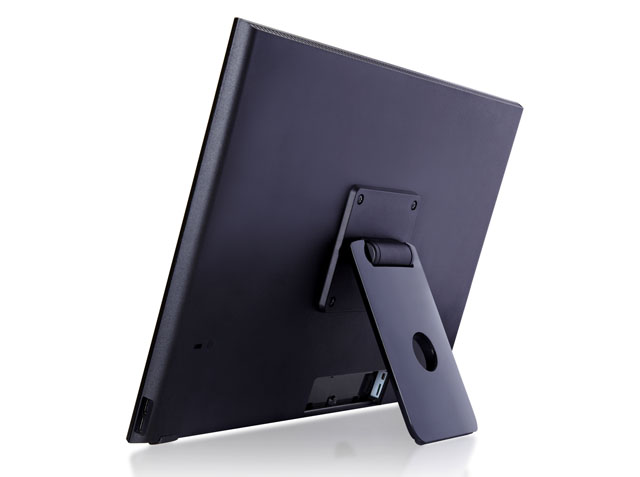 Power, Ethernet, HDMI and microSD card connectivity are hidden under a panel behind the sturdy lean-back stand
A pair of 1W speakers are built into the fascia underneath the display, with a 3.5mm headphone socket on the left-hand edge. The speaker audio quality lacks bass, as you might expect, but it provides a big sound and can be boosted with SRS enhancement with a couple of on-screen touches.
In addition to USB ports on either edge, ViewSonic has fitted standard Ethernet and HDMI ports alongside the power-in socket behind a removable panel underneath the unit's tilt-back stand. There's even a microSD memory card slot in there to allow you to expand the (admittedly meagre) built-in 8GB flash storage.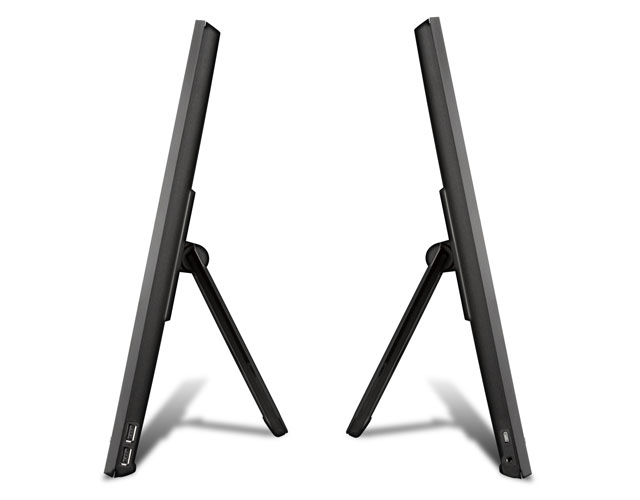 Two full-size USB ports feature on the right-hand edge, with a 3.5mm audio out and micro USB port on the left side
Contrary to expectations, watching Android launch on a 22in display is a delight, especially if you resist the temptation to lean in too close. Remember, it's not a tablet: 1920 x 1080 pixels spread 22 inches across do not look great from a distance of just 10 inches from your nose.