BBC iPlayer downloads BORKED by Adobe Air update
'Proper fix' could be AGES away, grumbles Auntie
---
An update to Adobe's Air application has crippled the BBC's iPlayer Desktop software, which is used by telly and radio fans in the UK who want to download programmes to view and listen to offline.
A sorrowful Auntie is currently advising its fans to roll back Adobe Air from version 3.5 to version 3.4 in order to get the software working again.
But the whole thing is proving incredibly fiddly, with some users complaining that they are having to remove and then re-install the iPlayer Desktop software as well.
The glitch is affecting both Apple Mac and Microsoft Windows operating systems, according to the BBC, which told viewers and listeners on Thursday that Adobe Air 3.5 had effectively broken its software.
It explained:
Users who have upgraded to the latest version of Adobe Air may not be able to download new programmes, including series catch-up downloads and any programmes already downloaded may have disappeared. Devices with Adobe Air version 3.4 installed are unaffected.

Resolution of this problem is of the utmost priority for the iPlayer team and we are working with our service partners to deliver this at the earliest possibility. Since the problem was first reported we've investigated and looked at our various options. Unfortunately, we believe a proper fix could take a while to roll out.

As an interim measure you can restore Adobe Air 3.5 to the previous version... use another download option or use the streaming service. Other download options are for Windows Media Player, Portable Devices and for iOS devices (iPhone, iPad, and iPod touch).
For the less technically minded, however, re-installing the software is simply out of the question, which means the iPlayer Desktop application is about as useful as a chocolate teapot for some.
Surprisingly, given that the BBC has confessed that Adobe Air 3.5 was not compatible with its software, the Corporation is still offering up that version of the cross-platform runtime system for anyone new to the concept of the iPlayer Desktop.
Indeed, your correspondent was able to install it via the BBC's website this morning only to find the thing didn't work when attempting to download a Beeb telly show via the iPlayer Desktop software.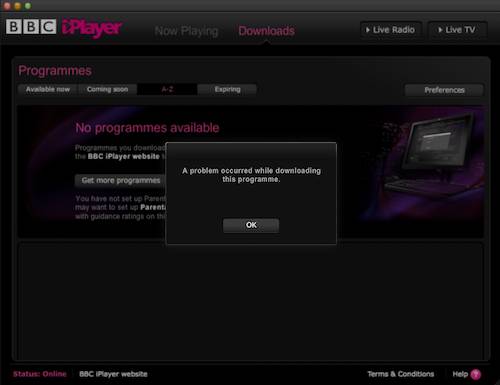 No 'offline' telly for you, sonny
El Reg asked the BBC to explain why it hadn't simply begun offering version 3.4 of Adobe Air to all new users of the service - which is also used to download and record future TV programmes - while it awaited a fix or update from the proprietary software maker. But it failed to give us an answer to that question.
It said:
Following an update to Adobe Air (version 3.5), Adobe has identified an issue which impacts audiences using the latest version of Adobe Air and BBC iPlayer's desktop download function.

We are working with Adobe to resolve this problem as soon as possible, as appreciate that this is frustrating for viewers.
®