This article is more than 1 year old
Call of Duty: Black Ops 2 game review
Playing with fire
Wails from the script
Well, the setting has changed for one. Much of the game is now set in what could be dubbed "future warfare" where governments have gone drone happy and China controls much of the world's resources.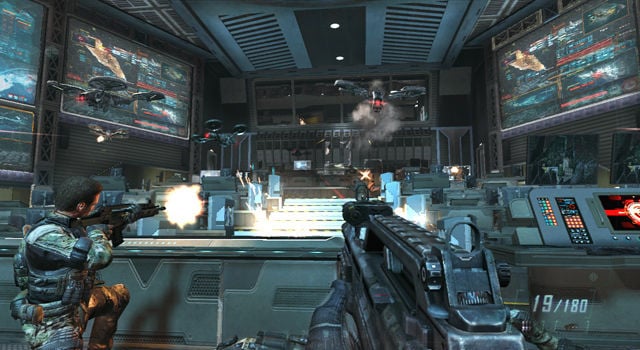 Shut down the computer
Thing is, China isn't the villain of the piece, that honour goes to Raul Menendez who, much like your average Bond villain, has a victim complex a mile wide leaving him firmly in the "Death to America" camp. No prizes for guessing you'll be gunning for Team USA then – in missions that flit between past and future battles – as Menendez's sob story is laid bare.
I'm just going to say it now: Black Ops 2, despite involvement from some Hollywood scribes, including David S. Goyer – The Dark Knight, Blade – won't be winning any awards for its narrative. Indeed, if Goyer was as involved, as stated, then he's evidently decided against bringing his best to the project.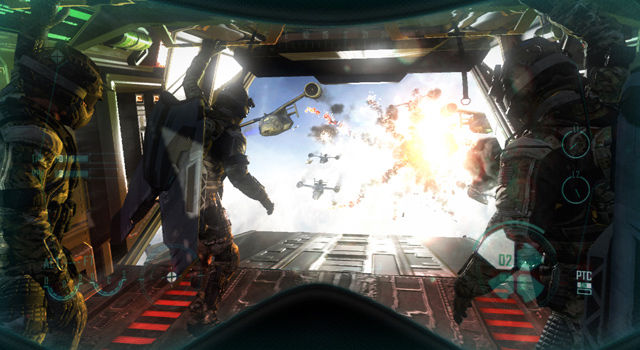 Aim to chute?
That said, strides have been made to revolutionise its narrative structure. This is still no Mass Effect, but story branches will split based on your mission success. This, at least, lends some replayability to proceedings. Further variation comes courtesy of numerous Strike Force missions. Think, single player assault-type missions with casual real-time strategy thrown in for good measure.
These are not only an attempt to splice something new into the Call of Duty formula, but also affect the game's progression (and even ending) depending on how well you perform. Previously missed objectives might also be completed here too, should you perform well.
Aside from these few sections, however, the spectres of aforementioned bottlenecks and survival episodes remain unexorcised, meaning the actual nuts and bolts of the gameplay doesn't lend itself well to repeat servings.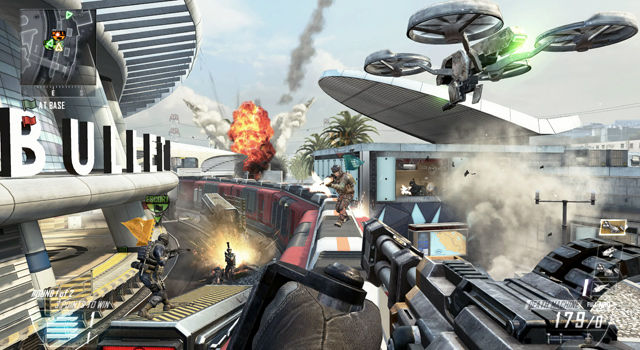 Attack with the Parrot drone
Treyarch has gone all out to impress with toys – flying suits, operable mechs, cloaking fatigues, even cavalry charges – but such options fall flat when used against enemy forces lacking any semblance of personality or intelligence.