This article is more than 1 year old
Call of Duty: Black Ops 2 game review
Playing with fire
Zombies, the lot of ya...
Even Halo 4 has its share of issues, but at least you can always count on an entertaining scrap from dogged foes. Here, we're back to the same-old fairground rifle-range, as enemies pop in and out of cover. I also lost count of the number of times bad guys would take supposed safe shelter behind glass partitions – a move that surely anyone with half a brain should work out is a bad one...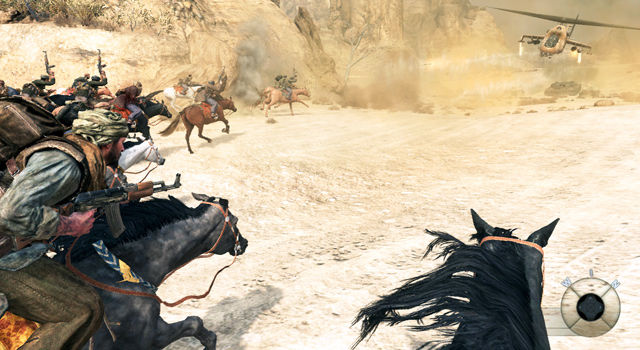 Desert strike
Talk of the cerebrally challenged brings us succinctly to Zombies mode, the second third of Black Ops 2 – the first being the solo campaign and the final the regulation multiplayer. Zombies has become a Black Ops' staple, and here we witness the finest version of the undead survival extra yet seen.
New ranking systems and leader boards keep the rewards and achievements flowing with the likes of Grief – two teams fighting off waves of zombies until one falls – and Tranzit, which apes Left 4 Dead by delivering a four-player zombie holocaust survival campaign. Both provide tense stand-offs versus the throngs of undead, if ultimately falling below that of Valve's classic.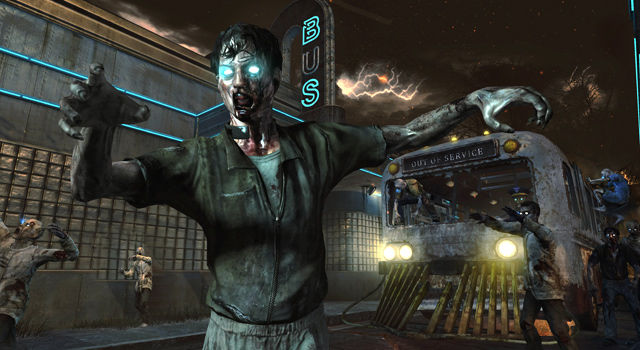 Wouldn't wait at that bus
Over to the traditional multiplayer, and though it is early days to give anything like a final analysis, what is clear enough is that your deathmatching options remain as frenetic as ever. Expect quick kills, sudden deaths and instant respawns – life is cheap in Black Ops 2.
Maps tend toward the small, creating bombastic zones of concentrated fire, the perfect place to chain your kills and level up in a bid to unlock ever more game-changing guns and equipment. Play variations deal in the usual capture-and-hold and team warfare types – same as in all the other Call of Duty titles – meaning you'll already know if it's right for you.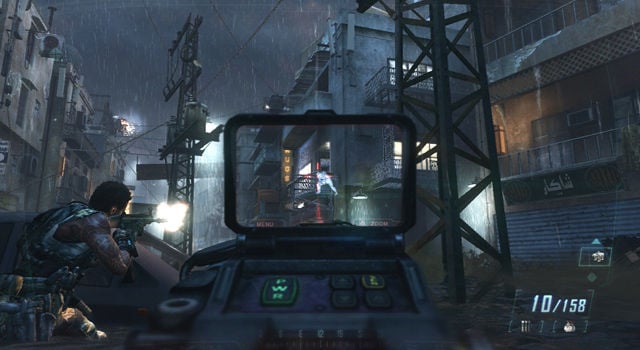 Predator 3?
Verdict
Perhaps my chief concern in recommending Black Ops 2, is the feeling of almost arrogant assurance that Treyarch, and Activision in turn, don't have to vary their game. Simply release it and let the hype take care of the rest.
Such confidence belies flaws such as barely changed gameplay, unambitious AI and an engine that is really beginning to creak now – some textures appear distinctly sub-HD in comparison to the likes of Battlefield 3, Crysis 2 and Halo 4.
Fans will point to the multitude of multiplayer modes and, if fast-paced, instantly gratifying multiplayer is your thing (and why shouldn't it be?) then come right this way. However, for those already tired of their previous Call of Duty purchases and looking for a new experience, it's time to look elsewhere. ®
More Games Reviews

Assassins
Creed 3
Halo 4
World of Warcraft:
Mists of Pandaria
Resident Evil 6
Dishonored

Call of Duty: Black Ops 2 game review
Call of Duty goes back to the future. Available on Xbox 360 (tested), PS3 and PC.