Dell starts up 'Top Gun' for channel hotshots, leather jackets and all
Plus plane full of rubber dogshit for grey marketeers?
---
Dell's chief storage guy, ex-fighter pilot Darren Thomas, has a new strategy to encourage the troops and get storage geeks to fly: make them Storage Top Guns with leather flying jackets to go with it.
Certified Dell and channel storage folks get a leather pilot's jacket emblazoned with badges, like a Storage Domain Champion with levels such as Warrior, Wizard and Warlock, and Fluid Data Architect, as the wearer gets more qualifications.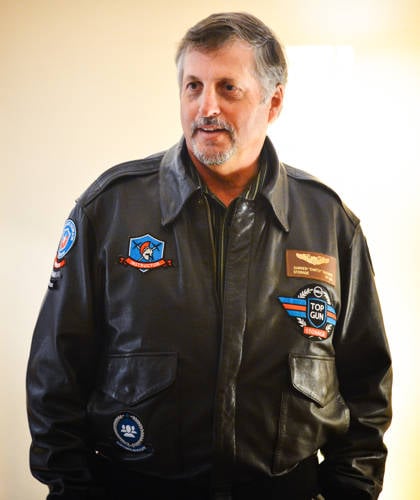 Darren Thomas in Top Gun leather flying jacket
Darren Thomas wore one of the brown leather jackets at Dell's Storage Forum in Paris today. Only the best talent in the field around storage will be awarded them. Their training record has to be assessed by a panel which will decide to award them the jacket or not. All the training in the programme that's available for Dell's own people is available to Dell's channel partners.
This is surely going to become of the most desired Dell channel goodies in history.
For lovers of serendipity who remember the iconic Top Gun movie, starring Tom Cruise and Kelly McGillis, note that Kelly McGinnis is a Dell VP for global communications.
One more question: what do you have to do to get the motorbike? ®
Bootnote
Mr Thomas was indeed a fighter pilot, but according to his Dell bio (pdf) not in the US Navy - which runs the famous Topgun combat school which featured in the '80s mega-hit, in order to polish the warrior skills of its seagoing pilots.
The Dell honcho instead chose to join the land-based US Air Force, whose airmen have somehow never managed to achieve the glamour that hangs around the lordly naval carrier aviators. This is perhaps because the airforce types don't have to go through the hair-raising business of landing jet aircraft on ships, or perhaps in large part because of the movie Top Gun itself.
We have been told by USN fliers that the USAF doesn't even issue its pilots with leather flying jackets as the navy still does, despite the fact that they are no longer generally worn in the air.
So, strictly speaking Mr Thomas doesn't really have the aviation background to start up a Top Gun of his own and hand out leather jackets. But he certainly has the storage background, and after all these are storage Topguns. - Ed