Facebook: Give us your credit card and pals' addresses as GIFTS
And WE will slightly facilitate your cupcake purchase!
---
Why write on a friend's Facebook wall when you could send them cupcakes and they could chose the flavour of the cupcakes? That was Facebook's big pitch to users last night as they announced the rollout of Facebook Gifts at a glitzy New York media event.
In an attempt to get people using their credit cards on the social network, Facebook have announced many more partners on their Gifts service, rolled it out to more users and have started a publicity push aimed at capturing the Christmas gift trade.
Facebook first mooted the idea of Gifts back in September, as we recorded at the time 'Facebook's latest brain wave: Flogging REAL fluffy tat'.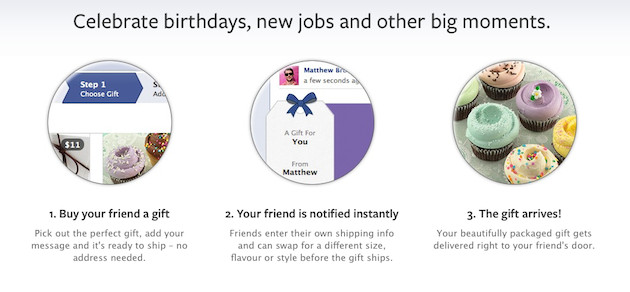 The exciting journey of the Facebook gift, screengrab Facebook
Gap, furniture shop Fab, Brookstone, clothes brand Dean & Deluca, L'Occitane, Lindt, ProFlowers, book-sellers Random House, NARS Cosmetics, and wine sellers Chandon are on the list of retailers signed up as Facebook gift-providers. And there are some virtual partners too - users can give each other Hulu, Pandora and Rdio subscriptions.
By visiting another user's wall you can choose to send them a gift: now one of the three options for interaction on the top of a friend's wall. The gift can be chosen, paid for and sent on Facebook, and will be processed by the retailer, arriving with the recipient in a few days.
The recipient can see the order on Facebook and actually tweak it - adding their own address and even changing the present - not exactly switching a cupcake delivery for a box of champagne - but tweaking the size/style/flavour of whatever it is you sent them. You can even post a self-congratulatory note on your own wall saying that you sent your lucky friend a gift.
It remains to be seen whether the social platform has anything to offer users as a shopping platform, given that so many successful ones already exist, Amazon for example.
That's presumably why Facebook is to be ramping up the social advantages of shopping - gift switching etc. The convenience of the service could go in its favour.
So give them a gift, and give Facebook your credit card details and friend's home address while you're at it. ®