This article is more than 1 year old
Survey: Win8 only HALF as popular as Win7 among IT bosses
Redmond needs BYODers to clamor for its fondleslabs
Microsoft has staked a lot on Windows 8 being the key to its future, but preliminary numbers from analyst house Forrester suggest that business isn't too keen on the new OS.
The firm's 2009 survey data for Windows 7 shows that at this point in its sales cycle, 49 per cent of firms expected to upgrade to that then-new operating system. Forrester has now surveyed 1,282 IT managers in the US and Europe concerning Windows 8, and found that figure has dropped to less than a quarter.
In addition, only five per cent of those surveyed had plans to upgrade to Windows 8 in the next 12 months, compared to 10 per cent back in 2009. More worrying for Microsoft is that barely half had even bothered to look at it seriously, compared to 73 per cent for the older OS.
It seems that Microsoft's blitz to convince the world that Windows is the future has thus far had limited effect in Western server rooms.
It's no longer Stephen Sinofsky's problem, of course, but to be scrupulously fair to Steve Ballmer and his cohorts, the Forrester results aren't really comparing like with like.
Back in 2009, most IT managers had had XP up and running for five or so years and might well have been getting sick of installing a barrage of monthly updates. In addition, the early adopters who'd jumped for Vista were most likely regretting their impetuosity and were keen to move on.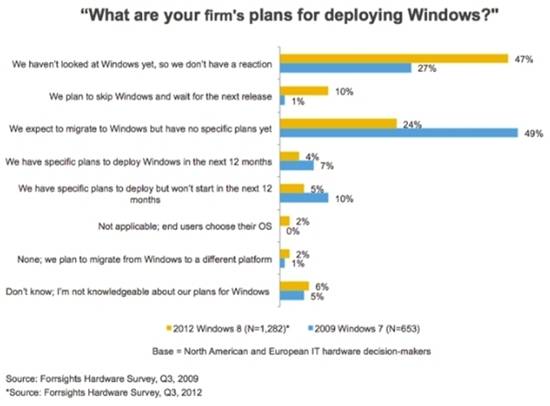 Windows unimagined
Unfortunately for Microsoft, this year's launch came while many companies that could otherwise be early adopters were still settling in with Windows 7, so there's little enthusiasm for an early upgrade on the client or server side. The main benefits of Windows 8 for the end user are also derived from using the touch interface, and that's still uncommon in most businesses.
Consumers are going to be where the operating system initially sells most, and the Forrester figures do hold some promising news for Microsoft on the tablet front that could be very useful to Redmond in the Bring Your Own Device market push that's on every marketeer's lips.
Of the 9,766 employees questioned in Forrester's survey, a fifth said they'd prefer their next fondleslab operating system to be Windows 8, with another 12 per cent wanting a Windows 7 tablet. Apple got 26 per cent of consumer confidence in the vote, while Android languished at 11 per cent.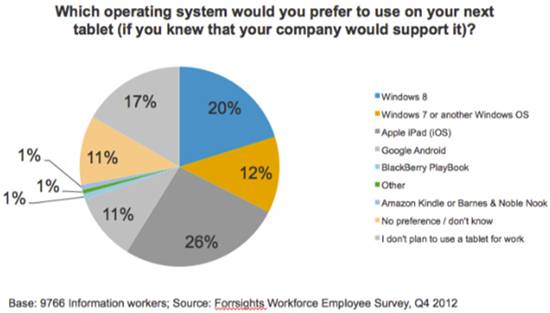 One in three want a Windows tablet, it seems
"Forrester does not expect enterprises to adopt Windows 8 as their primary IT standard," commented Forrester senior analyst David Johnson. "But we do expect that employees will force IT to have a formal support policy for Windows 8 for employee-owned devices. Windows 8 will accelerate BYOD demand."
How quickly that will happen is another matter. Microsoft has primed the pump somewhat with the Windows RT Surface, but it'll need the other manufacturers in the market to produce hardware that can drive demand on the x86 front if it's going to do well in the enterprise market. They seem to think they can, but time will tell. ®