GoDaddy puts gratuitous sexy pics on IT content
Not clever
---
Web biz GoDaddy's virtual data centres are apparently best illustrated using a photo of a bootilicious young thing in a thong gazing thoughtfully at a tan-coloured bed spread.
Conveying little insight into the operation of a hypervisor-powered on-demand computing warehouse, the baffling picture doesn't appear to be a temporary filler photo, having been uploaded in November 2011. The Reg took these screenshots after reader Martin kindly tipped us off last night: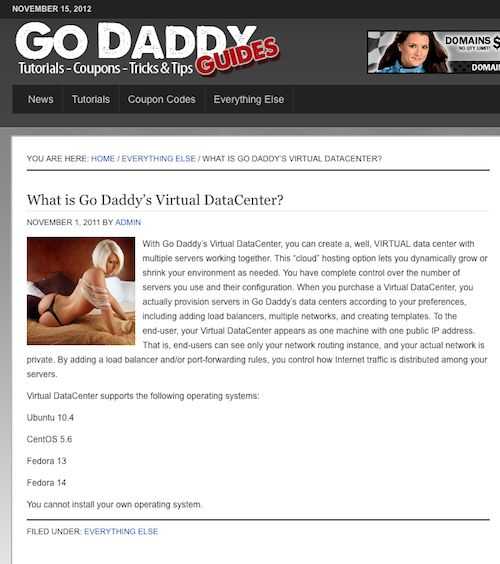 Balancing loads across fine racks, GoDaddy style
No attempt was made to tie the sexy image to the dry technical content, and the words "dynamically grow or shrink ... as needed" do not count. Generally, the photos in the Tips and Tricks section are, to be frank, bizarre choices:

Managing your domain like a woman in traditional Nepalese clothing sweeping the ground outside a Buddhist temple

Managing your spam like a guy with tattoos putting a dummy in a baby's mouth?
A whole gallery of amusing stock imagery abuse is on the GoDaddy Guides website at time of writing. ®