LOHAN to join mile-high club with BRITNEY or NAOMI?
Vote now to name our spaceplane control board
---
Poll The time has arrived to officially name the Low Orbit Helium Assisted Navigator (LOHAN) mission control board - the electronic heart of our audacious ballocket spaceplane mission.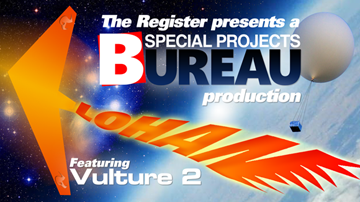 Ta very much to all those readers who chipped in with acronym/backronym suggestions, even if a good portion of them were unsuitable for a family publication such as El Reg.
Accordingly, we won't be reporting progress on Stratospheric Launch Apparatus Providing Pre-ignition to Experimental Rocket, Timed Window Altitude Trigger or Crucial Orbital Ignition Trigger Unmanned System.
Nonetheless, we have selected 10 choice cuts for the final vote, all of which are very much in the spirit of PARIS, LOHAN, REHAB, and indeed WIDDICOMBE.
So, you lovely people, let's get to it...
Bootnote
An extra pint for the anonymous reader who emailed in the BRITNEY suggestion. Nice handling of the tricky "Y" there.