October global temps above average for 332nd straight month
Not in the UK, where it's cool as the proverbial cucumber
---
The US National Oceanic and Atmospheric Administration has released its global temperature analysis for October, and – no surprise – the planet remains in a sultry mood.
As NOAA explains, a bit dryly – no pun intended, and no offense meant to unfortunate Americans fleeing drought-crazed rabid skunks: "This is the 332nd consecutive month with an above-average temperature."
The term "average" in that statement is key. NOAA is referring to two different averages: the globally averaged temperature, and the average temperature – again global – during the previous century.
"The average temperature across land and ocean surfaces during October was 14.63°C (58.23°F)," NOAA reports. "This is 0.63°C (1.13°F) above the 20th century average and ties with 2008 as the fifth warmest October on record."
Being an average, of course, some geographies were cooler than others – the UK for example. "The average monthly temperature across the United Kingdom was 1.3°C (2.3°F) below the 1981–2010 average," NOAA says, "making this the coldest October since 2003. Regionally, Scotland had its seventh coolest October since records began in 1910 and coolest since 1993."
That said, the planet as a whole was quite warm in October.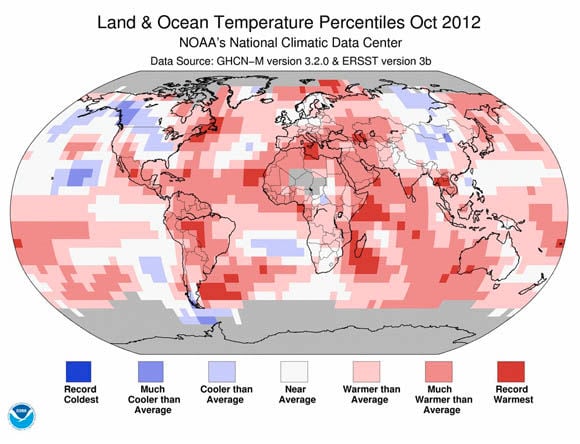 The drought-stricken US Midwest caught a cool break last month ... (click to enlarge)
Some geographies were noticably toastier than others. Northeastern and southwestern North America were much warmer than average, NOAA reports, along with most of South America, northern Africa, southeastern Europe, southwestern Asia, and far-eastern Russia. In addition, heatwaves brought record warmth to parts of Brazil and Bolivia, as well as southern India.
Among the 133 years for which NOAA has data, January through October 2012 was the eighth warmest globally, and the sixth warmest in the northern hemisphere. The warmest such period in both cases was during 2010.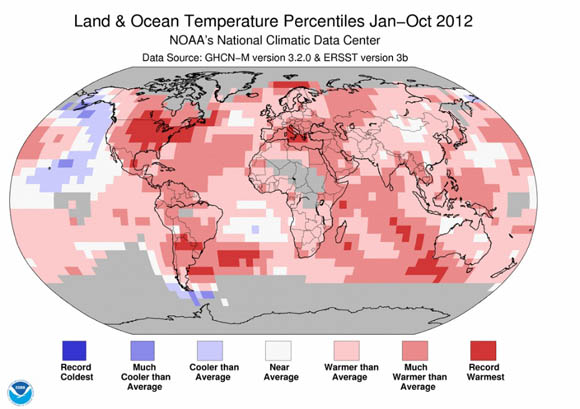 ... but over the year it's been toasty in Toledo, baking in Bismarck, and sizzling in Sioux City (click to enlarge)
As the debate in the US heats up – and, yes, we admit the pun this time – over whether weather oddities such as Superstorm Sandy are intensified by the increasing heat energy in the atmosphere that NOAA's data reveal, this report – along with September's – will likely add fuel to the fire. ®