This article is more than 1 year old
Bong Broadcasting Corporation. Let ME replace Entwistle
Strictly Come Dogging means I should be Digital General
¡Bong!
"Our purpose is to ensure that literature and art fit well into the whole revolutionary machine as a component part, that they operate as powerful weapons for uniting and educating the people and for attacking and destroying the enemy, and that they help the people fight the enemy with one heart and one mind."

- Mao Tse Tung.
I'll never forget where I was when I heard the news. None of us ever will. Last Saturday. I was chillaxing by the Caspian Sea, on the flight deck of the Bong Ventures party ekranoplan, when the phone rang. I had been attending the 7th Internet Governance Forum but had stayed on in Baku, and was preparing to strike out to the Golden Triangle.
"Entwistle's gone," my glamorous assistant มาลัย (which means 'Garland of Flowers' in Thai) whispered to me, her face as white as a lotus.
"Not Entwistle," I reeled. "Boaden. Patten. Unsworth. Anyone but Entwistle."
But it was true. The great white bald hope of the new digital generation had fallen on his sword. Putting grief aside I knew it was time act quickly and decisively. Sometimes you get the sense you are here on the planet for a reason. This was one of those moments. Destiny awaited.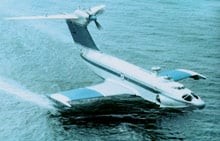 Bong Ventures Ekranopolan - speeding back to Shoreditch
What the BBC needs is new blood - digital blood. I sounded out 肥彭 (Fat Pang) as I know him from my Hong Kong entrepreneurship days. Lord Patten has non-executive directorship of 41 of my startups - and he told me:
"Get your application in now, Bong."
"We greatly regret turning you down last time for the DG's job, Steve," Patten confided. "Although you did submit your two-page application essay in Whiteboard Marker in mirror writing," he added. "Don't make that mistake again - and we won't either."
My love for the BBC is boundless. Programmes such as [insert three shit ITV or Channel 5 programmes here - sb] were a formative influence on me. The BBC will always be Auntie to me. An Auntie with a strange obsession with killing us off, perhaps - like Kathy Bates in Misery. But Auntie all the same. One whose medicine may sometimes taste foul, but which is always necessary, and who never loses sight of the common purpose.
But it badly needs to be brought up to date. Here's how I'm going to transform the BBC into a truly digital nextification platform, one that's fit for not just the 21st century, but the 22nd, too.
The BONG Broadcasting Corporation: A Manifesto for Change
An invitation to the British People to Join the BBC
Firstly, the BBC has yet to fully embrace the digital era. Yes, it has already abolished any mention of TV, with the directorate responsible for this called 'BBC Vision'. This is a good start, the next step is to abolish TV completely. The BBC will now leverage existing digital platforms like YouTube to deliver its video content, which will naturally need to be of a length suitable for the new always-on digital generation.
The spectrum currently wasted on TV will be auctioned off for use by wireless entrepreneurs, with a small commission payable to facilitating agents (eg, Bong Ventures).
I am astonished to discover something even older still exists, "radio". WTF? I thought that went years ago along with Ceefax. This is like keeping a department alive to send out smoke signals. Shutting down this anachronism will free more valuable spectrum and allow a more flexible organisation to flourish.
Thirdly, we are going to Gamify all our activities. The BBC will conceptualise formats as games first, and content second - if at all. We will also work with existing games brands to synergistically leverage our archive. My team are already pilgrimming the pilot for Angry Liver Birds II, for example.
Fourthly, I will put an end to the elitism that has hangs around the Corporation, like Jimmy Savile around a mental hospital.
The view that one kind of program, say a classical drama like Shakespeare, is intrinsically "better" than exciting new reality formats such as Push The Roma Down The Well or Strictly Come Dogging is very out of date. From now on, all formats will be crowdsourced, putting you the viewer in charge. It's YOUR BBC.
This means that drama scripts with their traditional and hackneyed "cliffhanger" endings will be brought up to date. if you don't like the script, join in the Wiki, and change it!
The Newsgathering operation has also become big and bloated, with so-called "experts" spreading their elitist views. Not everyone can adapt, so unfortunately 95 per cent of journalists will have to be reacquainted with the welfare state and those that remain trained in Wikipedia format tags, where they will do most of their work. Some of the cash saved will be used for hiring infographic designers and Big Data analysts.
I will also move the new, lean Bong Broadcasting Corporation to a much more stimulating location - such as the Tech City Hub in Shoreditch - to ensure it's digital by osmosis. I have acquired a lease on an attractive loft complex which currently requires some minor renovation - some roof damage was caused when half-spring-half-man took on a rather unhelpful attitude while training for the Paralytic Games. Once completed, I will make this digital campus space available to the BBC for its new HQ at below-market rates. [Arranged by Bong Realty. Pang - see HERE for the easy-to-read 943 page click-through contract - sb]
Finally, there's the vexed issue of financing the Corporation. Why should people pay an antiquated tax when everything on the internet is free, man? And I quite agree. It's a collectivist relic that my heroine Ayn Rand would not spare. Face it guys, The License Fee has had a good run, but it's time to move on.
So, after much thought, I will replace the existing License Fee with a BBC Community Investment Catapult of £499 per annum, payable by every UK adult over the age of 18, with financing for the low-paid available through my incubator Sharkr (APR 455,999.2%).
You can't say fairer than that.
Your Next Director Digital General®
Don't miss Follow @BongVentures on Twitter
Steve Bong is the founder of Bong Ventures, an early stage investor and incubator focussing on innovative new technology startups based in Shoreditch, London. He enjoys parties, foreign travel, Open Data and draws his inspiration from Ayn Rand and His Holiness the 14th Dalai Lama. He advises No.10 policy guru Rahul Sativa on mindfulness and innovation, Mark Zuckerberg on the Perfect IPO, LOCOG on brand enforcement, and imagineered the Olympic Opening Ceremony with Danny Boyle. He favours Small Government but Large Catapults.