Boffins: Proto-humans had stone spears HALF a MILLION YEARS BC
Dead springbok riddled with flinty projectiles in tests
---
An international team of boffins has shown that early proto-humans were using stone spearpoints much earlier than had been believed.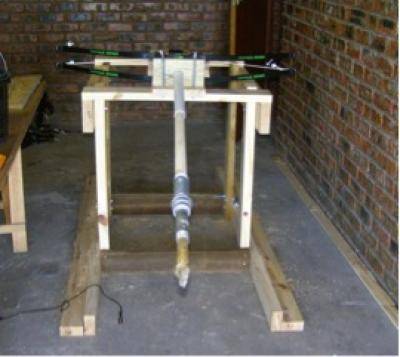 Special crossbow used to shoot stone-tipped spears into a dead springbok
This was achieved by demonstrating that stone points found in South Africa decades ago had been used as spear heads.
"There is a reason that modern bow-hunters tip their arrows with razor-sharp edges. These cutting tips are extremely lethal when compared to the effects from a sharpened stick. Early humans learned this fact earlier than previously thought," explains Benjamin Schoville of Arizona State uni.
Schoville and his colleagues worked this out by examining distinctive patterns of damage on the tips of the stone points. These points were known to date from some 500,000 years in the past - well before the period that humans were known to use hard tips on their spears - and nobody had until now been able to state authoritatively that they had been spearpoints as opposed to some other sort of implement.
But Kyle Brown of Cape Town uni, an expert in stone tools and weapons, was able to make points of the same design. He then attached them to spearshafts ("hafting" them, as this technique is known) and shot the spears into a springbok carcass using a special scientific crossbow adjusted to produce consistent results.
Lo and behold, Brown's spear tips developed exactly the same kind of damage as the ones from half a million years BC. Thus, according to Brown, Schoville and their team-mates, the case is proven that the makers of the South African points used them attached to spears. This suggests that there was in fact no technological difference in this area between modern humans and Neanderthals.
"Rather than being invented twice, or by one group learning from the other, stone-tipped spear technology was in place much earlier," argues Schoville. "Although both Neandertals and humans used stone-tipped spears, this is the first evidence that this technology originated prior to or near the divergence of these two species."
The team's new paper, Evidence for Early Hafted Hunting Technology, is published in the November 16 issue of leading boffinry mag Science.
A different team recently published research suggesting that our ancestors may have had the technical edge on the Neanderthals in the struggle for lordship over planet Earth nonetheless, as they are thought to have developed much more sophisticated, lighter weight stone spearpoints later on. These would have been suitable for use with atlatl spear-hurler devices, so giving our greatmanygrandads a serious range advantage over the Neanderthals with their more basic kit. ®