The People app in Android 4.2 has forgotten that the month of December exists.
People includes a limited calendaring function that is mainly used to assign birthdays to contacts.
But if you try to use it to record the birthday of a certain Judean carpenter, you'll struggle to do so, because the whole month of December, including the 25th of the month, doesn't exist in the app.
The bug seems to have come to light on Google Code, where a sharp-eyed chap called Rohit Naik posted the screen shot below to illustrate the problem.
Other commenters in the thread confirmed the bug on a variety of handsets, and also confirm it's restricted to Android 4.2. They've also nailed the source of the glitch, namely the NumberPicker (referred to in the link above as a BumberPicker).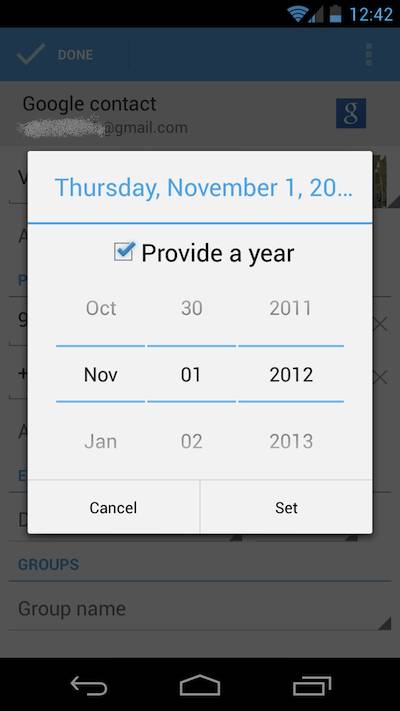 Memo to Google: Remember, remember, the month of December
People is not Android's calendaring app, so those hoping the mess might lead to their in-laws failing to show* on Christmas will be disappointed. But given the wide media coverage the glitch is attracting, perhaps it's still good for getting out of a party or two you'd rather not attend.
Google has not issued an official statement about the mess at the time of writing, but is said to be working on a fix. ®
* The author would just like to make it clear he gets on very well with his in-laws and is looking forward to their company this Christmas.