US paper spaceplane disintegrates at 107,000ft
El Reg denies laser weapon destroyed Indiana uni's Geronimo
The University of Southern Indiana's second attempt to claim PARIS's Guinness World Record for the highest launch of a paper plane ended dramatically on Saturday when the Geronimo aircraft (pictured below) disintegrated at around 107,000ft (32,612m).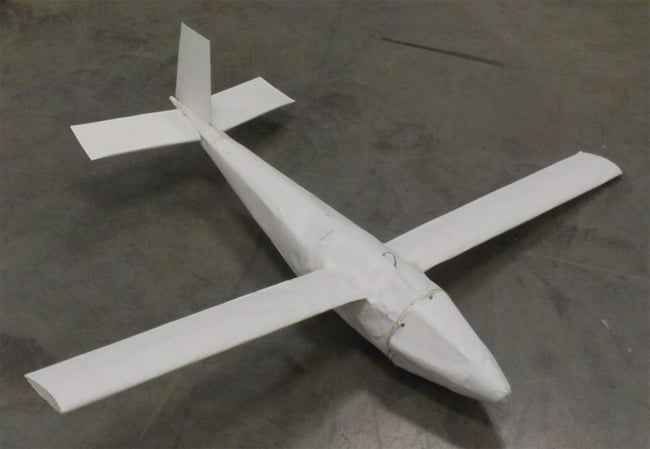 On 27 October, the uni's first pop at the record was thwarted by premature balloon burst at about 88,000ft (26,820m), well short of the planned launch altitude of up to 100,000ft (30,480m).
The team had devised a cunning "bow string" release mechanism to unleash their spaceplane, as professor Glen J Kissel of the department of engineering explained: "This is a mechanism used in archery to hold and then release the bow. Our bow release is connected to a servomechanism that opens once 100,000ft is reached. A string slips through the open bow, allowing the plane to fall."
The unproven system failed during Saturday's mission, which launched from Fairfield, Illinois, proving just how tricky the apparently simple matter of dropping a paper plane at height really is.*
Professor Kissel said: "The release mechanism was programmed to release the plane shortly after the 95,000 foot altitude was reached, but that did not happen."
Things then got messy. Kissel told El Reg: "However, just after the balloon burst, at 107,000 feet, a release occurred. Was it a clean, intact, release of the paper plane? We don't know, because the memory had already filled on the cameras. It is likely that the plane broke apart in two pieces from the release mechanism at that point due to the post-burst chaos, making for an invalid release."
The electronics, camera and release pods were recovered safe and sound southwest of Fort Branch, Indiana. Meanwhile, the nose cone of the aircraft, complete with its two tracking devices, was picked up just west of Owensville. Here's the complete plot of the Geronimo APRS tracker (click on the pic for a bigger version):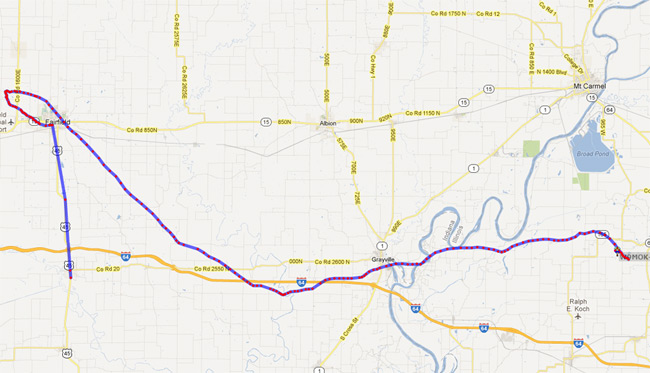 For now, then, our Vulture 1 record of 89,591ft (27,310m) stands, unless the University of Southern Indiana can "magically show that we had a clean separation at 107,000 feet", as Professor Kissel put it.
Our commiserations to our US paper-based tomfoolery rivals, and we'd like to state for the record that should the rest of Geronimo eventually turn up in an Indiana field, it will not show signs of having been blasted by a Special Projects Bureau laser death ray. ®
Bootnote
*Fans of the PARIS mission will recall that developing our own release mechanism was a right palaver, which ended only when we emerged triumphant from QinetiQ's hypobaric chamber.
---