This article is more than 1 year old
Dell storage still staggering a year after EMC break-up
Biz failing to gobble own-brand dogfood
Dell's storage business is not keeping pace with its servers and networking business. This could be a lingering effect of its changed storage strategy, in which it has stopped reselling EMC storage and begun flogging its own acquired Compellent and EqualLogic gear as part of a "converged" solution. But it appears that customers aren't buying into its storage vision as fast as it would like them to.
Dell spent more than $2bn building up its storage portfolio last year and an additional $1bn to gain technology in the data centre, mobile and cloud environments.
But in its third quarter fiscal 2013 results, Dell's net storage revenues were $386m compared to $2.32bn revenue from servers and networking.
If we chart the values of Dell storage, servers and networking revenues over the past few quarters, we see the categories are diverging: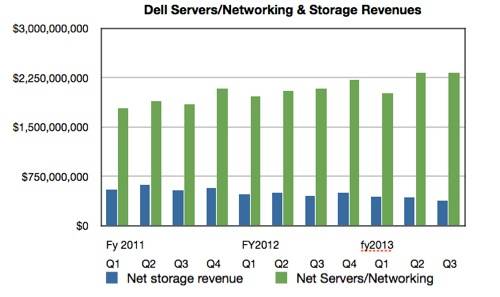 Dell customers are buying more servers and networking gear, but fewer storage boxes.
Plotting a graph of storage revenues on their own over the last few quarters brings out the decline in Dell storage revenues more clearly: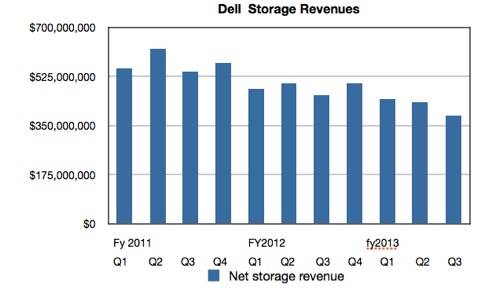 If we chart storage revenues as a percentage of Dell's server and networking revenues we can see the divergence much more clearly: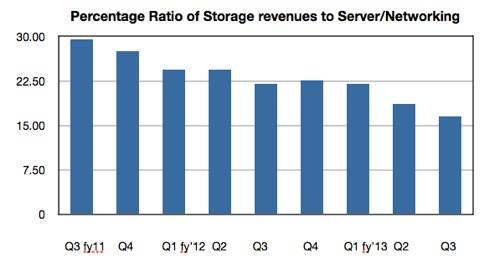 We can see that storage revenues used to be just shy of 30 per cent of servers and networking revenue. Now, two years later, they are sliding down to 15 per cent - note that this is a time period during which Dell has stopped reselling EMC storage, from October 2011 onwards, and in which sales of its own acquired Compellent and EqualLogic gear has not taken up the slack.
Aaron Rakers, a Stifel Nicolaus analyst, says Dell storage revenues overall declined 16 per cent year-on-year and 11 per cent compared to the previous quarter. Excluding EMC, Dell-owned IP storage at $378m was down 3 per cent on the year and 9 per cent compared to the previous quarter: "The Dell-EMC reseller revenue declined to about $8m for the October quarter, down from $18m and $72m in the prior and year-ago quarters, respectively," said Rakers.
Dell storage strategy
At the Dell Storage Forum in Paris, Dell executives insisted customers want its converged infrastructure tech. There are three storage array families at the low-end, mid-point and high-end of Dell's product range: PowerVault, EqualLogic and Compellent. Competitors have similar three-way storage product line splits. Then there are data-protection appliances and object storage, with Ocarina deduplication and optimisation, and Exanet scale-out filing technologies.
Dell does not have a mass-market dedupe backup box winner, like Data Domain, nor does it have popular filer or scale-out filer sales - as do NetApp and EMC with filers, and EMC Isilon with scale-out filers. The Exanet technology has some way to go before it becomes solidly successful. Object storage is a niche for now. Consequently PowerVault, EqualLogic and Compellent have to fly while these smaller scale offerings get up to speed.
It may be that Dell's strategy of acquiring companies and keeping them relatively intact as Dell subsidiaries with their own headquarters and staff keeps the acquired company people happy but prevents a deeper integration into Dell itself. We don't know if this is the case but it is a strategy for company acquisition that seems unique to Dell and so may be a factor in the relative under-performance of Dell storage.
In server and networking's wake
What Dell is hoping for is that by focusing its messaging on converged servers + storage + networking infrastructure, the rising sales of servers and networking will drag storage along with them. Also, as Rakers notes: "The company ... emphasised the increasing adoption of converged solutions in which storage is finding itself within the server architecture (eg, one of Dell's 2U servers can now support 38TB of internal capacity, which will soon increase to 50TB."
Dell has spent a lot of money buying storage business over the past few years and it appears that its return on its storage investment is not as high as it could be. How many more quarters of storage decline will there be before Michael Dell decides enough is enough? ®