Albert Einstein's brain seems to have been packed full of unusually-configured parts that could explain his unusual intelligence, according to a new study by US scholars.
The revelations about the boffin's brain come from the the journal Brain, which carries a paper titled The cerebral cortex of Albert Einstein: a description and preliminary analysis of unpublished photographs. In the paper, authors Dean Falk, Frederick E. Lepore and Adrianne Noe explain they have enjoyed access to 14 photographs of Einstein's brain that were previously unknown. The photographs, captured on 35mm film by the pathologist who examined Einstein after his death, spent years in the bowels of various institutions before coming to light in 2010.
Analysis of the snaps, the authors suggest, reveal "an extraordinary prefrontal cortex, which may have contributed to the neurological substrates for some of his remarkable cognitive abilities." The trio also assert the great physicist's "primary somatosensory and motor cortices near the regions that typically represent face and tongue are greatly expanded in the left hemisphere" and that his "parietal lobes are also unusual and may have provided some of the neurological underpinnings for his visuospatial and mathematical skills, as others have hypothesized.
The paper also suggests the frontal lobe of the boffin's brain included "a large 'knob'-shaped fold (the 'knob', known to surgeons as the sign of omega) in the right hemisphere that represents enlarged motor representation for the left hand. This is an unusual feature that is seen in some long-time right-handed violinists." Einstein was such a violinist.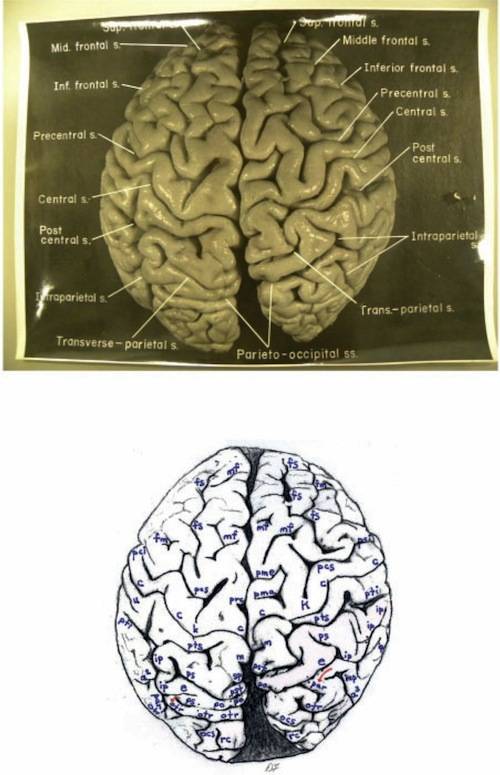 One of the newly-uncovered photos of Albert Einstein's brain
Overall, the paper ranks Einstein's brain as of normal size and weight and says that the features noted above hint at enabling unusual levels of cognition in the scientist's brain. But the paper also points out that neuroscience is a long way from knowing about brain configurations that make us good at particular pursuits. It therefore concludes with a hope "that future research on comparative primate neuroanatomy, paleoneurology and functional neuroanatomy will provide insight about some of the unusually convoluted parts of Einstein's brain." ®