This article is more than 1 year old
Thank BRIT eggheads for new iMac's sexy seamless knife-edge
Welding knowhow keeps Apple beyond bleeding
A little-known British company is the brains behind technology in the new super-slim iMacs that Apple CEO Tim Cook raved about on stage.
That admired tech is the tapered aluminium edge at the 5mm-wide end of Apple's latest thin desktops, which were revealed at an event in October.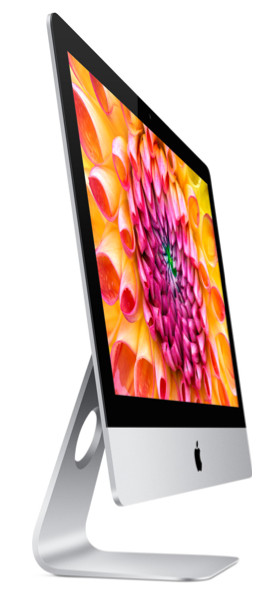 The new thin iMac and its 5mm edge
The welding technique that has made the new iMac so thin is the intellectual property of Cambridge-based company TWI. The iMac Apple is just 5mm thick around the edges of the display on the all-in-one computer, and the aluminium join is made possible by friction-stir welding.
Invented in 1991 by Wayne Thomas at TWI, friction-stir welding is a solid-state process, meaning that it doesn't require the materials to be melted for them to be joined. Instead it softens and merges the edges by mixing the two materials under frictional heat.
The result is a smoother join of very high strength, and the process is quicker and uses less energy than traditional welding techniques.
It allows the join to be thinner too, so Apple can reduce the width of the iMac down to half a centimetre when attaching the front to the back of the computer: a "seamless, precise, and superstrong join" according to Apple.
The first licensed use of friction-stir welding was the in the construction of freezers for Swedish fishermen. Since then it's been used for spacecraft fuel tanks, aeroplane wings, high-speed trains, and boat hulls. And now it's in the new iMac.
Apple licensed the tech earlier this year and has been testing it since then. Iain Smith, associate director and intellectual property manager of TWI, would not reveal the commercial details of the deal with Apple.
But Smith said licences cost roughly £40,000 per assembly plant location per year - although that can vary according to the overall size of the contract and TWI's relationship with the customer.
Its list of patent licensees includes seven mentions of Hon Hai, the parent of Apple's electronics manufacturing partner Foxconn, but Smith said the extent of the Apple contract was greater than that.
Most of TWI's clients are big aerospace contractors, such as BAE and Lockheed Martin. Apple is unusual in using the metal-mushing technique for consumer electronics, although Smith mentioned that a Bang & Olufsen speaker has used friction-stir welded aluminium for the past 12 to 15 years, and heat sinks in laptops are among other components built using the technology.
The Brit welding specialist collected £60m in revenue in 2011, and banked a profit of just under a million quid. It is an independent research and development organisation, Smith explained, and it ploughs its profits back into devising new welding techniques - the speciality at the heart of the business: "If you think about it," Smith said, "everything you do in the world is joining materials together." ®