This article is more than 1 year old
Kobo Glo illuminated e-reader review
Read between the covers - and under them
Reading in the dark
Under ordinary lighting, the Glo's screen takes on a pale blue cast rather than the usual grey, hence Amazon's decision to call its version "Paperwhite". I'm not convinced it makes for any improvement unless you're using the light to compensate for too little lighting or too much. Upping the brightness can cut through some bright overhead lighting.
Worse, perhaps, the light makes the E Ink screen's page turn 'blackout' much more intrusive than it usually is. Maybe that's why the Kobo software limits full screen refreshes every six page turns. The downside: this leads to broken characters and ghosting. I turned it from the default to a refresh with every page turn but, as I say, this makes the refresh more in-your-face when the light is on.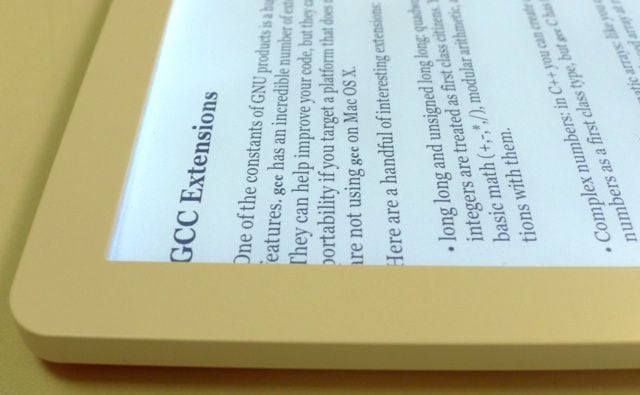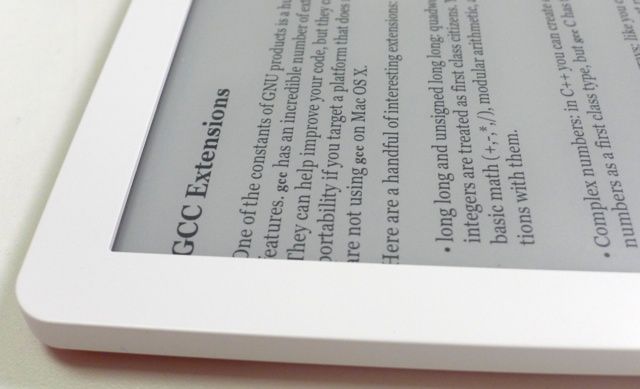 With 'backlight' illumination (top) and without (bottom)
The Glo is touch-sensitive. There are no physical page turn buttons, and screen itself doesn't detect taps - they're spotted by sensors mounting in the thick bezel. So you can use the end of a pencil or any other stylus as well as fingertips.
Touch is said by e-reader makers with touch-enabled e-readers to be more "natural" than buttons, but I'm not convinced. Tap a screen or tap a button - what's the difference? Touch does let you swipe, but that's a poor mimic of turning a physical page. But it is unquestionably better than selecting an on-screen keyboard's keys with a five-way nav button.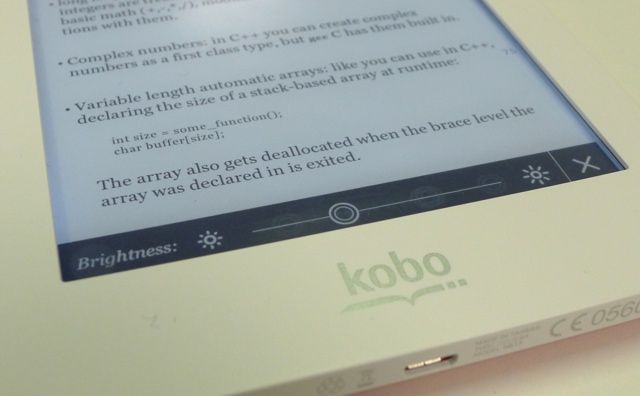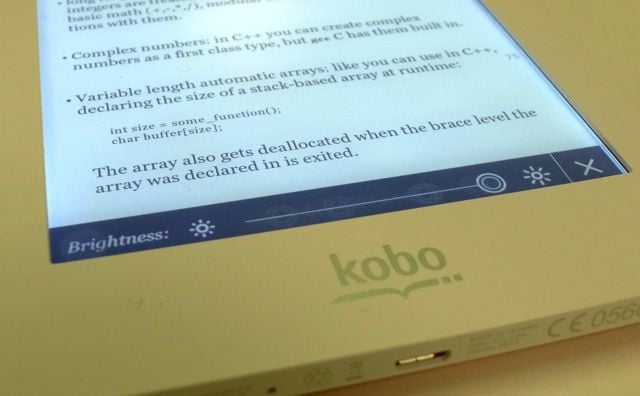 The Glo's illumination runs from just noticeable (top) to very bright (bottom) - but look at the ghosting
I shouldn't harp on about touchscreen e-readers. They're all as bad in this respect, and the Glo is no worse than the rest. Its light is as good as theirs too. The only reason I'd select, say, a Kindle Paperwhite or Nook SimpleTouch Glowlight over the Kobo is that their more curvaceous cases are more pleasant to hold.
Of course, the Amazon offering isn't out yet, and won't ship until 17 December. The Nook is available, for the same £109 as the Kindle. It would be my choice - it's worth the extra tenner over the £100 Glo for the better quality casing. And it supports the same ePub and DRM formats as the Glo.
Verdict
The Glo isn't a bad e-reader, and Kobo has an impressively well-stocked e-book shop ready to fill it. Its UI is up to the job. But though e-readers are now as cheap as chips, they don't have to feel like they cost almost nothing to make. Unfortunately, the Glo does. So does Kobo's Mini, but its unique 5in size offers some compensation. Not so the Glo, which delivers the same features as a host of rival e-readers but in a less attractive outfit. ®
More E-reader Reviews

Apple
iPad Mini
Amazon Kindle
Paperwhite
Kobo
Mini
B&N Nook
SimpleTouch Glowlight
Ten...
Apple iPad Mini
alternatives

Kobo Glo illuminated e-reader review
Kobo's take on the new wave of illuminated e-book readers.