After three years of restoration by the National Museum of Computing (TNMOC), the world's oldest functioning digital computer has been successfully rebooted at a ceremony attended by two of its original developers.
The 2.5 ton Harwell Dekatron, later renamed the Wolverhampton Instrument for Teaching Computation from Harwell (WITCH), was first constructed in 1949 and from 1951 ran at the USK's Harwell Atomic Energy Research Establishment, where it was used to process mathematical calculations for Britain's nuclear programme.
The system uses 828 flashing Dekatron valves, each capable of holding a single digit, for volatile memory, plus 480 GPO 3000 type relays to shift calculations and six paper tape readers. It was very slow, taking a couple of seconds for each addition or subtraction, five seconds for multiplication and up to 15 for division.
But it had persistence, performing calculations more accurately than human mathematicians and without needing toilet breaks, sleep, or a social life. When a leading mathematician tried to keep pace with the computer, he lasted for around 30 minutes before falling behind and making mistakes.
"The restoration was quite a challenge requiring work with components like valves, relays, and paper tape readers that are rarely seen these days and are certainly not found in modern computers," said restoration team leader Delwyn Holroyd in a statement. "Older members of the team had to brush up on old skills while younger members had to learn from scratch!"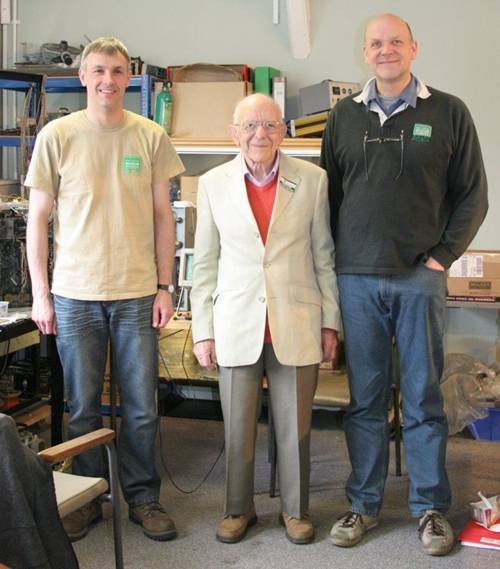 Harwell Dekatron designer Dick Barnes (center) meets the team
After its atomic work was finished in 1957, and with transistorized computers all the rage, the computer was offered to the academic world and ended up at the Wolverhampton and Staffordshire Technical College (thus the WITCH moniker) and ran until 1973. It was retired to the Birmingham Museum of Science and Industry, but was put into storage in 1997 before being rediscovered and rebuilt by volunteers funded by TNMOC
"In 1951 the Harwell Dekatron was one of perhaps a dozen computers in the world, and since then it has led a charmed life, surviving intact while its contemporaries were recycled or destroyed," said Kevin Murrell, trustee of TNMOC, who started the restoration project.
"As the world's oldest original working digital computer, it provides a wonderful contrast to our rebuild of the wartime Colossus, the world's first semi-programmable electronic computer." ®