Greenhouse gases break record again, says top UN weather man
US down, but pesky poor folk emitting like crazy
---
The World Meteorological Organization (WMO) has announced that the amount of greenhouse gasses – including the ever-contentious CO2 – increased to record levels in 2011.
"These billions of tonnes of additional carbon dioxide in our atmosphere will remain there for centuries, causing our planet to warm further and impacting on all aspects of life on earth," said WMO Secretary-General Michel Jarraud in a statement. "Future emissions will only compound the situation."
The situation to which Jarraud refers is the fact that since the industrial era cranked up around 1750, the WHO estimates that about 375 billion tonnes of carbon have been pumped into our increasingly toasty atmosphere, "primarily from fossil fuel combustion".
This sobering – if not unexpected – assessment comes from the WMO's annual Greenhouse Gas Bulletin, which noted that between 1990 and 2011 there has been a 30 per cent increase in radiative forcing, the heat-trapping effect engendered by CO2 and the two other long-lived greenhouse gasses, methane and nitrous oxide.
The good news, Jarraud says, is that up until the present, the Earth's carbon sinks have absorbed nearly half of all the CO2 that our power plants, automobiles, and the like have been spitting into the air. The bad news is that natural carbon sequestration won't necessarily be our friend forever; oceans, for example, are becoming more acidic as they absorb CO2, "with potential repercussions for the underwater food chain and coral reefs," Jarraud says.
According to the WMO report, here's the 2011 scorecard for the prime radiative-forcing gasses:
Carbon dioxide (CO2): 390.9 parts per million, 140 per cent of the pre-industrial level
Methane (CH4): 1,813 parts per billion, 259 per cent of the pre-industrial level
Nitrous oxide (N2O): 324.2 parts per billion, 120 per cent of the pre-industrial level
While the amounts of atmospheric CH4 and N2O - projected over a 100-year period - are significantly smaller than that of CO2, it should be kept in mind that both are significantly more effective at radiative forcing than CO2. CH4 is about 20 times as Earth-toasting as CO2, and N2O is a breathtaking 298 times more effective at radiative forcing than CO2.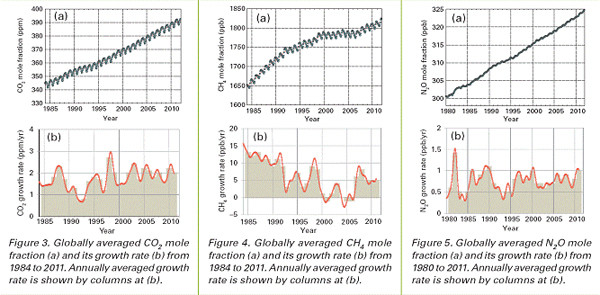 Greenhouse gasses and their radiative-forcing effects show no sign of abating
Interestingly, the US is doing quite a respectable job cutting its CO2 emissions. According to the Energy Information Administration, the US's total energy-related carbon emissions dropped in early 2012 to their lowest point since 1992, thanks to a mild winter, power plants switching from coal to cleaner natural gas (thanks, low prices), and reduced demand for steadily more expensive gasoline.
Unfortunately, however, the developing world seems to be quite effective in picking up the slack, as Tuesday's WMO report abundantly shows. ®