Apple's bid to build a UFO-like complex has been pushed back a year because it was late submitting the final plans to officials.
The giant doughnut-shaped office is now expected to be open for business in 2016, if Cupertino City Council approves it, rather than 2015 as Apple had hoped.
The final plans, first sketched out by Steve Jobs, were filed this week two months later than expected. Cupertino Planning Commission won't be able to complete their environmental assessment of the plans until June 2013, Bloomberg report, rather than early 2013. That pushes back the start of building till the end of 2013 and a move-in date to 2016.
And that's assuming that no-one in the planning commission or local area has any objections to the 176 acre plan that will bring 10,000+ employees to the site.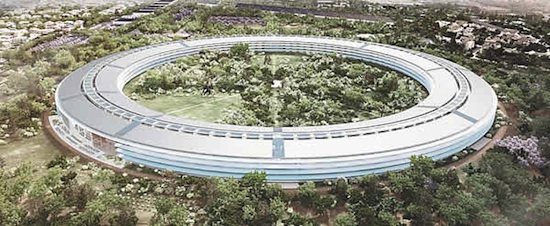 Artist's rendering of Apple's futuristic new Headquarters
Changes
Cupertino Council have intentionally kept Apple's most recent plan off their website until they get more server space. The council fear a crash from a deluge of Apple fans if they put the plans up too soon. However, city officials in Cupertino have told Bloomberg that the tweaks to Apple's giant doughnut HQ in the latest documents are small.
Changes include more parking spots - 10500 were originally planned, though many of these will be underground - an additional building to house utility equipment, a greater landscaped area and the removal of a footpath planned on one corner of the site.
The artist renderings for the site and the main building remain the same. The homepage for the Apple Campus 2 project can be viewed here on the Cupertino Council website, the latest entry is Apple's filing from May 2012. ®
Similar topics