A report that identified more than 16,000 British children who could be at "high risk of child exploitation" during a 12-month period has also highlighted the apparent dangers kids face when using the internet.
It warned:
Technology forms part of most people's lives, especially those of young people. As a result it has been rare to identify cases of child sexual exploitation where the use of technology has not been a factor.

This fact is significant, as information technology is having a direct impact in a multitude of ways on the means by which people are able to sexually exploit children.
The interim report, entitled I thought I was the only one. The only one in the world, was published on Wednesday morning by the Children's Commissioner's office, which has been undertaking an inquiry into child sexual exploitation in gangs and groups.
It listed a number of different methods apparently employed by those seeking to sexually exploit young people. It said that such gangs and groups were found to the do the following:
Threatening that they will share images of [the young person] online, and using these threats to coerce the victim into ongoing sexual abuse.
Harassment and bullying through text messaging.
Purchasing mobile phones for victims and then sharing their numbers among group or gang members.
Random contact with children via social networking sites.
Using 'friends' lists' on networking sites of known victims to target new children.
Viewing of extreme or violent pornography and discussing it during sexual assaults.
Posting images of girls (or boys) with rival gang members to invite a sexual assault as punishment.
Filming and distributing incidents of rape.
Distributing Blackberry pin numbers for lists of girls labelled as 'easy'.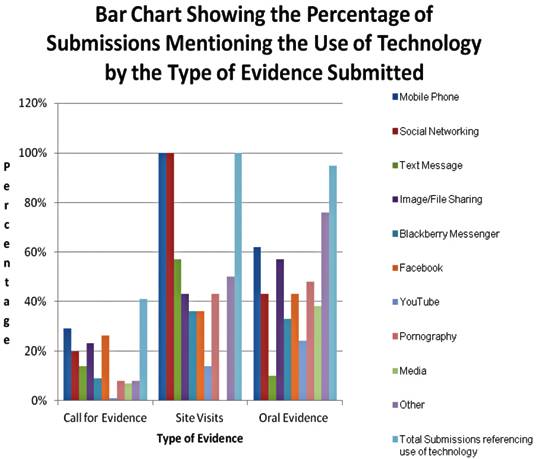 The report concluded that the use of technology had popped up repeatedly during evidence submissions from victims who said mobile phones and social networks, for example, helped gangs to initiate, organise and maintain child sexual exploitation.
The commissioner's report also wagged a finger at online pornography as an influencing factor for abusers. But the findings were also reportedly labelled as "hysterical" by unnamed senior government sources speaking to the BBC.
While the deputy children's commissioner Sue Berelowitz claimed that the report as one of the most comprehensive ever undertaken to uncover the true extent of child exploitation abuse in England, the study only garnered data from just over half of police constabulary areas in the country.
It said that 21 agencies had contributed some sort of information to the report, but that 19 had not submitted any evidence. Despite that lack of data, the report concluded that 16,500 kids were at high risk of such abuse over the 40 constabulary areas.
"Evidence to the inquiry indicates that in any given year, the actual number of children being abused is far greater than the 2,409 that have been confirmed," the study claimed.
Two tech companies mentioned fleetingly in the report were Facebook and BlackBerry-maker RIM. We sought their views on the conclusions of the study.
Facebook, which is the dominant social network in the UK, told The Register:
"We have a zero tolerance policy for child exploitative behaviour on the site and such activity is rare. However, when illegal behaviour is detected, Facebook works with law enforcement agencies such as CEOP [child exploitation and online protection centre] to ensure that these people are brought to justice."
Facebook, for its part, removes its youngest users - the 13-to-17-year-olds - from public search, meaning they can only post content to friends of friends and not beyond that scope. Adults are only allowed to befriend youngsters on the site if they have an existing social connection, such as being part of the same school network.
RIM had not got back to us with comment at time of publication. The full report can be viewed here [PDF]. ®
Similar topics