This article is more than 1 year old
Mozilla's Social add-on MERGES Facebook with Firefox
Be afraid. Be very afraid
Do people say you spend too much time on Facebook? Do you actually worry that viewing other websites might be cutting into your Facebook time? Then the Mozilla Foundation has the Firefox add-on for you.
Facebook Messenger for Firefox integrates the social network's controls directly into the browser's user interface, making it possible to keep a running tab on all of your Facebook contacts and conversations next to whichever pages you visit.
The new features are the first public demonstration of Firefox's new Social API, which Mozilla has been working on for a while but which only went mainstream with the release of Firefox 17 on Monday.
In a blog post announcing the Zuckerberg-embedding preview, Mozilla compared the new API to the OpenSearch standard, which allows search engines to offer their results via the in-browser search field. In much the same way, the Firefox Social API aims to allow social sites deeper integration into the browser itself.
To try it out, you must first make sure you're using the latest version of Firefox, either by downloading it or by updating through the normal procedures. You'll then need to navigate to Mozilla's activation page to enable Facebook Messenger.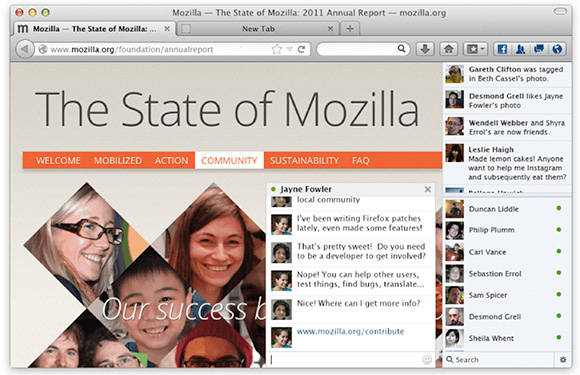 For those who worry that their online banking might not be integrated closely enough with Facebook.
Once activated, it inserts a sidebar into the main browser window that displays the current status of all of your contacts and their latest updates. This sidebar remains visible even when you switch tabs, always hovering next to all of the other content.
Above the column, next to the URL bar, are three buttons representing the most commonly used Facebook items; pending friend requests, personal messages, and notifications from your News Feed. Clicking any of them shows the latest updates in a drop-down bubble window.
A fourth button displays the Facebook "F" icon and can be used to show or hide the sidebar or – should you ever decide that all of this is really, really taking things too far – remove the features from Firefox completely.
According to Mozilla, Facebook Messenger is "just the beginning," and it plans to add more features and integrate with more social sites as development continues. For example, Google+ may soon integrate with Firefox in a manner similar to Facebook.
Do people say you spend too much time on Google+? Do you actually worry that viewing other websites might be cutting into your Google+ time? No? Ah, never mind, then. ®