This article is more than 1 year old
Why do Smart TV UIs suck?
Inconsistent, inconvenient and in my *!#!!?* telly
Inconsistent, inconvenient and in my TV
Similarly, Sony's sets tuck iPlayer away in the 'Internet content' menu, a term unlikely to mean a lot to those outside the tech world. That said, Sony manages to find space at the top level of the UI for its own Sony Entertainment Network and to distinguish between 'widgets' and 'apps'. Why?
Small wonder then that iPlayer views from the iPad vastly outnumber those from all connected TVs combined.
As if that wasn't bad enough, a lack of attention to detail makes the user experience of many sets clunky and confusing. The Director General of UK industry body the Digital TV Group, Richard Lindsay-Davies, reckons connected TVs now offer a more "seamless" experience, but the only thing that comes close is the backward-scrolling EPG found on YouView, which is probably far closer to a rational UI than what comes out of the big brands' development teams.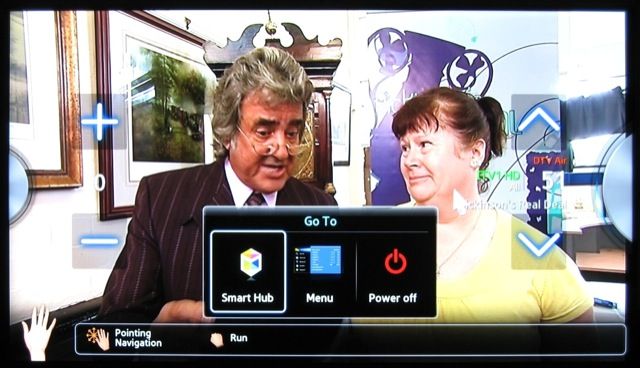 Samsung is at least trying new control methods, such as gestures
Highlight an icon in Sony's video-on-demand apps list, like Demand 5 or Lovefilm, and the atrocious XMB UI urges you to "Click here for additional assets", whatever that means. I know. You know. But will ordinary punters know? Sony's 'Play Memories' photo sharing option allows you to read the service's Ts&Cs. If you do so, it launches a web browser showing small print which requires no fewer than 35 key presses to scroll through.
Sony is not the only offender. Samsung's 'Family Story' – a simple Facebook-type service to tie you and yours into Samsung products – merits a button of its own on the remote control. Yet aspect ratio control doesn't, and it takes 16 key presses to change the screen to 4:3.
To be fair, some vendors, Samsung and LG among them, are trying new things, like gesture control and voice control. The former, I mostly found tiring, and worried about a Father Ted moment should any visitors peer through the window and see me with right arm outstretched towards the TV and angled upward. Voice control is more likely to find a use in homes, but I suspect more as an assistive technology than a permanent way to control the set.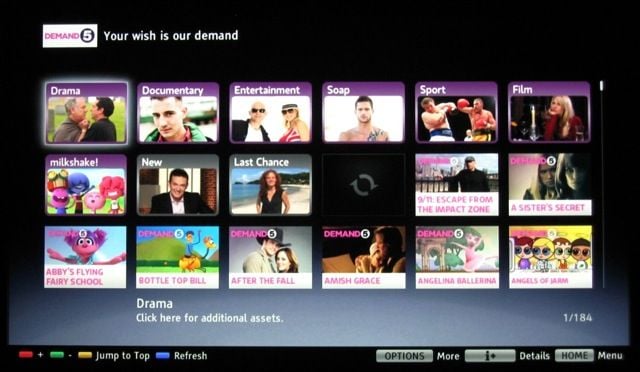 Sony helps you to Demand 5 and other services' 'assets'
Who's for sale?
Thanks to the obsession with 'social', plenty of people are building Twitter or Facebook into their TVs. But when it's executed in a way that means you can't watch TV at the same time, or you can't follow hashtags relating to the programme you're watching, what's the point? It makes more sense – it's more private too – to pick up another device and use that at the same time.
There's sometimes an apparent disregard for customers. A complaint raised against Panasonic TVs for years centred on the inclusion of adverts in the EPG. After spending hundreds of pounds on a new telly, you don't want to be marketed at when you press the guide button. This year's sets have finally, thankfully, dropped the in-guide ads, but they should never have been included in the first place.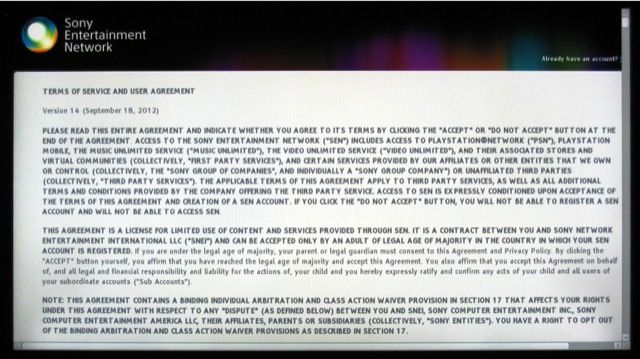 Thinking of using Sony's Play Memories? You'll be asked to read these 35 pages first
Toshiba has yet to learn the same lesson, with a video promoting Acetrax playing in the main menu of their 'Places' UI. A special mention should also be made of Sony. It may not have adverts in its UI, but unless you opt out during the last step of its setup wizard, its smart TVs are granted the right to send information about how you use your TV back to Sony.
Many sets don't let you enter your details for services like Flickr or Twitter there and then - you have to go off and do it through the vendor's website, then link services to devices, and devices to sites. While there's a reasonable argument to be made that on-screen keyboards aren't much good for this kind of thing, I can't help feeling that the real point is not ease of use, but the gathering of information.