This article is more than 1 year old
Why do Smart TV UIs suck?
Inconsistent, inconvenient and in my *!#!!?* telly
Outside the box
It's not just smart TVs that suffer from ill-conceived UIs - many other pieces of AV kit do too, as will be evident to almost anyone who's looked at a Blu-ray Disc with 'BD Live' content, or media streamers that – even if we charitably leave aside the nightmares of DLNA compatibility – offer poorly rendered menus and a slightly different UI for every individual online service.
Those online services themselves don't help, of course. Netflix, for instance, simply provides an option on its website to unlink linked devices. That's all of them – you can't specify 'Samsung TV' or 'Roku media player.' So if you sell or get rid of your telly, you also have to reset all the other devices linked to your account. The only way I could persuade the Roku to connect again was to delete and re-install its Netflix app.
My Yamaha AV Reciever, only a couple of years old now, has on-screen graphics that appear not to have been updated since the 1990s, and require the selection of an icon from a vertical list, which opens a horizontal panel of more icons, which then open pop-ups in the middle of the screen.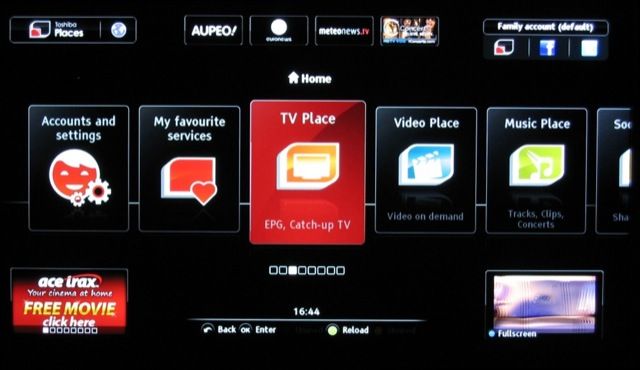 It may say there's an EPG in there, but there isn't. And the Video Place isn't the only one with video, either
As Reg Hardware's Steve May commented on another Yamaha AVR, "any GUI which forces you to cross reference it with a manual constitutes a Fail in my book". Amen to that.
Matters are, he says, made worse by the way in which some kit works, such as those that output surround sound only through optical connections, requiring the SPDIF port to be assigned to an HDMI video input, a common enough configuration that nevertheless took the best part of a day to set up on a new Marantz AVR.
Is there a solution?
Just before he died, Steve Jobs apparently claimed to have cracked the TV UI, and pundits have long been speculating about how an Apple television might revolutionise TV interactivity. Heaven knows we need a fresh look, but it probably won't come from Apple. The interface on the company's bijou media player may be fairly straightforward, but as more services have become available, it's apparent that not even Apple is immune from UI clutter. And the current UI is Apple's third attempt to get it right.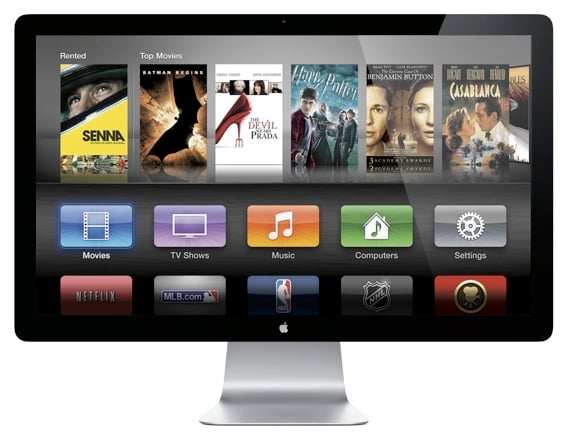 Even Apple can't get it right
And clutter is not the only problem. Rights can cause problems for the unwary too, and even the might of Apple can't always solve those. Take an iPad, for example, which can fling video to the TV over Wi-Fi using what Apple calls Airplay technology. Now rent a movie using iTunes on the iPad: if you'd bought it, you'd be able to play it through the Apple TV, but not if it's rented.
For many people, a TV is increasingly a device to be used to present content from other sources than broadcast television. So do we really need smart TVs at all? Or would it be better to have industry agreed open standards that let 'companion devices' such as tablets and smartphones interact with our displays, reliably and consitently?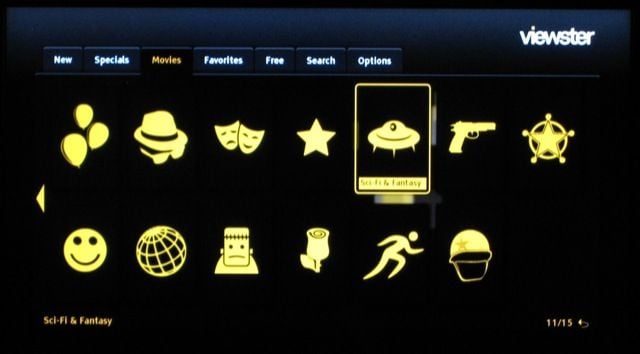 Viewster on Toshiba: is yellow the new black, or black the new yellow?
Reg readers, for the most part, will be able to find their way around the latest AV and TV gear, whatever its idiosyncrasies – but would you want your mother to? There has to be a better way. ®
How would you redefine the TV UI? Do you have AV UI horror stories? Let us know through your comments.