Storing information in an age when filling ram sockets was an entirely different business
The Dekatrons didn't just count - they also stored data by acting as a volatile memory similar to RAM in today's computers. This meant the machine could run unattended and results wouldn't be lost until it was powered down.
The Dekatron has 828 Dekatron tubes. Also, there are 480 relays, 7,073 contacts or relay switches, 26-high-speed relays, 199 lamps, 18 switches, a 1.5 kilowatt power supply, thousands of connectors, some sheet-metal casing and a metal frame measuring 6m across, 2m high and 1m deep.
Kevin Murrell, who started restoring the beast in 2009, likened assembling the machine to raising the Mary Rose. For non-students of history, this warship was the pride of King Henry VIII's fleet and sank in 1545. In 1982, the surviving part of its hull was delicately raised by crane from The Solent, near Plymouth, and placed in a climate-controlled museum.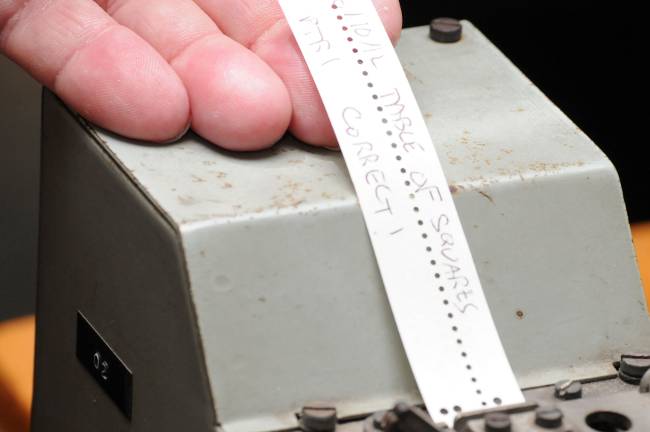 Old-skool program: how to build a sub-routine for the Dekatron
You'd think the TNMOC team that rebuilt the Dekatron had a relatively easy job: unlike the Mary Rose's archaeologists, they weren't labouring in freezing water, breathing bottled oxygen, and scrambling through zero visibility.
However, like the Mary Rose, the computer was in pieces.
Harwell ran the Dekatron from 1951 to 1957, and then gave it to the Wolverhampton and Staffordshire Technical College. It was renamed WITCH (Wolverhampton Instrument for Teaching Computation from Harwell) and used it for teaching before it was handed over to the Birmingham Museum of Science and Industry in 1973. This is where Murrell first encountered the machine. Years later, it was taken apart and put into boxes for storage at the Birmingham Collections Centre. The Dekatron moved to TNMOC in 2009.
Murrell had manuals to work from, but this was only partially helpful.
"We had all the components and various circuit diagrams," Murrell said. "But the diagrams aren't that helpful. We knew physically where the bits went, but a lot of wiring has suffered in storage, some tubes had failed and spare parts had to be sourced."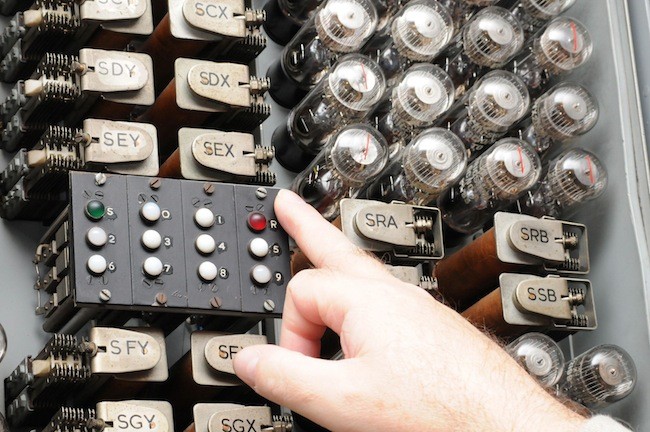 The sexy insides of the Dekatron revealed - click to enlarge
Broken Dekatron-like valves could be sourced, unused, from Russia – they'd been made during the glory days of the Soviet Union. The relays, distractingly labelled with SEX and other terms, are the type used by the General Post Office (GPO) of the era, and were relatively easy to replace if broken. Other components were scrubbed clean of decades of oxides using brushes and file filters.
Some of the cabling had rusted and was replaced with modern white-coloured plastic-coated stock that's hidden around the back; also updated is the original power source, which Murrell called "impressively terrifying".
Before Tuesday's reboot, Murrell and TMOCH ran simple programs to test different parts of this 2.5-ton calculator. Their program calculated the squares of multiple lists of numbers.
Back at the dawn of the nuclear age, software for the Dekatron was designed using a pencil-drawn flowchart, and written down in longhand on foolscap sheets of lined paper. The source code was taken to a punch-tape machine and the instructions punched onto paper – one program could have up to six paper tapes, and lots of spools would need to be glued into a loop so that it ran continuously.
Data for the computer was also punched on paper tape. Results from the calculations were printed by a teleprinter and could be punched directly to a new paper tape - useful if the output was needed for a new calculation.
Today, the programs are written in longhand with the help of Microsoft Excel, but otherwise it's business as usual. Programs are transferred to paper using a hole puncher on a table next to the Dekatron and the results are collected from a teleprinter on the opposite side of the machine.
Sixty years on, the Dekatron is ready for a new generation growing up in a world of iPad apps and Visual Studio. Now they can try sailing the Mary Rose of computers - let's see how far they can get. ®