This article is more than 1 year old
Taito's Double Dragon
Works wonders?
Antique Code Show It was the summer of 1989 in a not-so-sunny Prestatyn Pontins, so the majority of our holiday's evenings were spent in the resort's arcade hall. Being my first foray into the seedy underbelly of cutting-edge - well, for 1987, when the game debuted, at least - videogames, one of the first arcades I ever played was the side-scrolling brawler, Double Dragon.
A forerunner to more modern 16-bit classics as Final Fight - which, interestingly was conceived as a sequel to DD - and Sega's musically masterful Streets of Rage series, DD dropped me right in the deep end of pummeling pixellated people in the face to a rockin' soundtrack which still holds up today.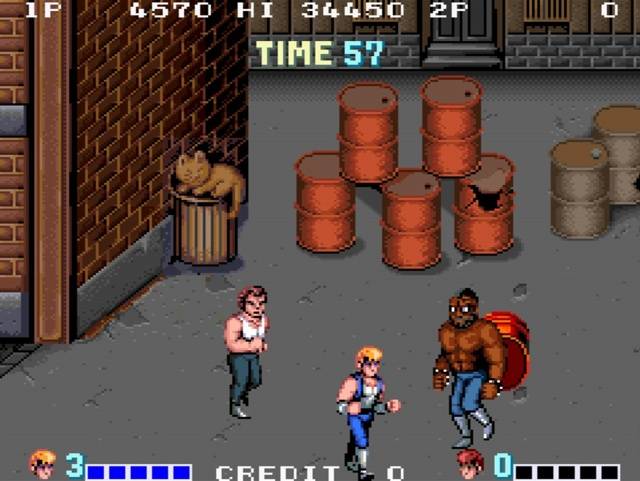 Street-fightin', man
Most modern games force you to sit through a half-hour cinematic intro, which will be partially interactive if you're lucky. Not so here - the no-nonsense, dialogue-free story to Double Dragon sees your girlfriend Marian being punched in the gut and hauled off by a gaggle of goons and their leader, Willy. The game tasks Bimmy Billy and Jimmy Lee with reaching Willy's base and both giving him a good hard seeing to.
I always found it baffling that the brothers Lee didn't just get in their car and mow them down rather than relying on their fists and feets.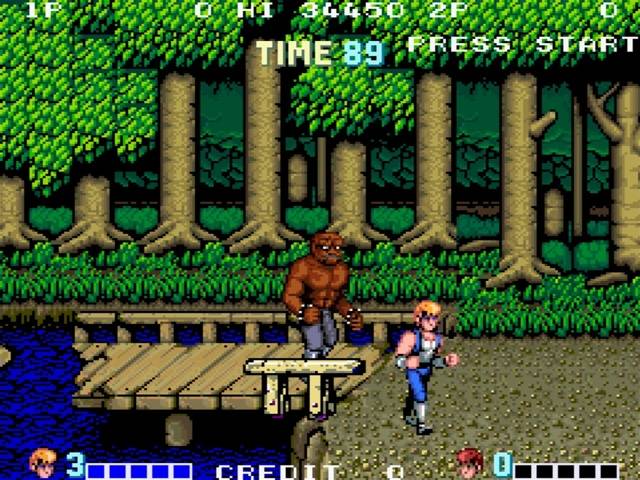 Copse and robbers
But where would the fun be in that? Barely able as I was to reach the joystick, it was no easy feat. Beat 'em ups, well, arcade games in general, were designed solely to drain the pockets of innocent tykes such as myself, and Double Dragon was no exception. Littered with cliffs and pits which bring instant death, the enemies will gang up on you and gleefully knock you in, sapping precious lives.
At one point in the third level, you have to jump over a precarious broken bridge - oh god, I'm getting flashbacks of Dizzy. Nurse, my meds! - only to be greeted by one of baldy boss Abobo's many palette swaps, who will unceremoniously toss you back the way you came, or straight up into the drink. Is the water infested with piraña or something? Can the Lees not swim? Pfft, losers.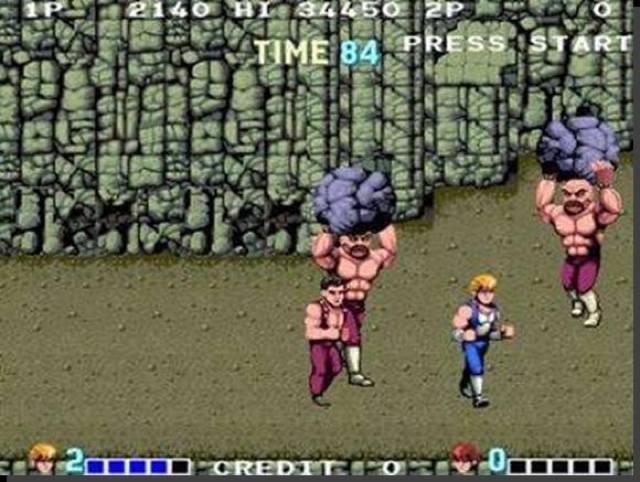 Rolling stones
In the final stage, Willy's HQ has a very elaborately-designed wall system whose sole purpose is to push its brickwork out randomly and knock you into a spiked pit. Presumably a deterrent for Jehovah's Witnesses and double-glazing salesreps, I dread to think of all those innocent pizza delivery boys adorning the abyss's bed.
Having played the game again more recently, it did dawn on me just how easily one could complete the game by simply elbowing every enemy. They will casually just breeze up behind you, blissfully unaware that you're about to deliver a swift synovial strike to their collective chops. It even works on most of the bosses.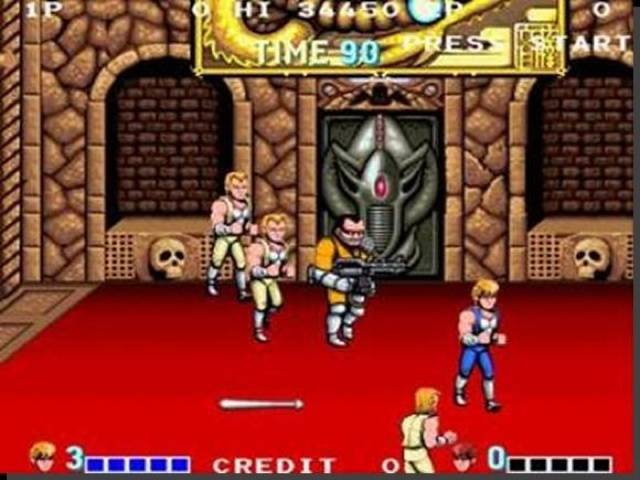 Mashed Taitos
Even in the final showdown when Willy is furiously pumping out projectiles all over the place, a swift joint to the jaw will make short work of him and liberate your beloved belle.
But hang on, is she Billy or Jimmy's significant other? Well, the best part of the game, and in a shock twist to rival The Usual Suspects, is when two players have beaten the odds, made it through four stages, worked together to fight off Willy, but then, with an abrupt "Let's Fight!" are forced to duke it out to the death in a Highlander-style "there can be only one!", the victor claiming the prize of Marian's hand.
I guess the Lee brothers just aren't into the idea of an icky, incestuous threesome. ®
Developer Technōs
Publisher Taito
Release Date 1987
Platforms Initially Arcade, NES, Sega Master System, then pretty much every other platform.
More Retro Games

Dark Forces
Half-Life
Populous
Legend of Zelda
Ocarina of Time
Ghostbusters