This article is more than 1 year old
Boffins: Jurassic avians were more like Angry birds than modern ones
Couldn't flap wings, needed a push or jump to get going
Bone-bothering boffins say that early birds were actually fairly rubbish at flying, so much so that they couldn't get airborne unless they jumped off from a high point or otherwise gained a helping push.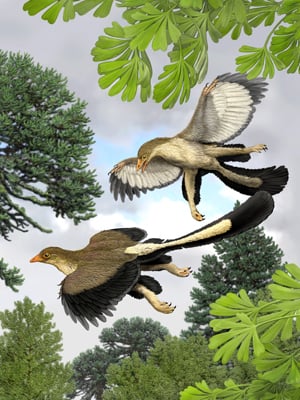 The Archaeopteryx in glide. Credit: Carl Buell
"We don't think these things could take off from the ground," explains Nicholas Longrich of Yale's Department of Geology and Geophysics and lead author of a new study in to the matter. "They can't fly like a modern bird."
The geoboffins raked through the fossils of two types of primitive winged beasts, the Jurassic bird Archaeopteryx lithographica and the feathered dinosaur Anchiornis huxleyi, and found that the archaic avians probably did more gliding or ballistic soaring - Angry Birds style - than actual flying.
Both primeval creatures had multiple overlapping layers of long wing feathers that would have been hard to separate to minimise drag on the upstroke. Birds today have a single layer of easily strung out long feathers layered with shorter ones.
The prehistoric birds probably had to climb trees and then glide from there (there probably not being many handy catapults around), the study found, and their clumsy attempts to get into the air mark early experiments in evolution.
The wing feathers of Archaeopteryx and Anchiornis are very similar, but not identical. Archaeopteryx had multiple long flight feathers, but Anchiornis' multiple feathers are more simple and strip-like.
"We are starting to get an intricate picture of how feathers and birds evolved from within the dinosaurs," said co-author Jacob Vinther, formerly at Yale and now with the University of Bristol.
"We now seem to see that feathers evolved initially for insulation. More complex vaned or pinnate feathers evolved for display.
"These display feathers turned out to be excellent membranes that could have been utilised for aerial locomotion, which only very late in bird evolution became what we consider flapping flight."
The full study was published by Current Biology. ®