Irradiated smoked turkey and thermo-stabilized yams are on the menu for astronaut Thanksgiving on the International Space Station today. American commander Kevin Ford and his two Russian crewmates Evgeny Tarelkin and Oleg Novitskiy will tuck into a special bag of food prepared for the holiday, and get the day off from normal duties.
In a video posted by NASA, Astronaut Ford pulls a variety of different foods out of the treat bag and explains just what exactly will be served up.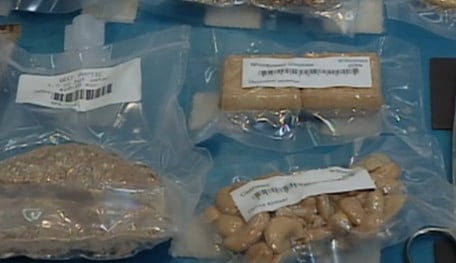 NOM NOM NOM: packeted space food
The irradiated turkey will be served with cornbread dressing, a packet of corn, candied yams, a packet of potatoes, a tin of Russian potato and onion puree, baked beans, a peach cobbler and two different sorts of apple-based pudding. To drink there is a cranberry peach drink with sweetener which Ford describes as "seasonal".
There are no fridges or freezers for food on the ISS so all food has to be capable of surviving a long time at room temperature. Astronauts do have a small drinks cooler. Food is eaten out of bags rather than on plates.
Ford reveals that recently departed US astronaut Suni Williams left him some marshmallow cream, which he intends to mix with the candied yams. An apparently popular way to prepare yams among Americans.
Ford also said he would be giving thanks for the international flight control team.
In another video, the NASA food scientist Vickie Kloeris explained some of the issues that affect food in space and the psychological importance of good food to the astronauts. As well as the standard food packs, astronauts are given bonus containers - snack packs - where they can choose foodie treats for themselves including commercial snacks.
Here's Suni Williams eating a waffle: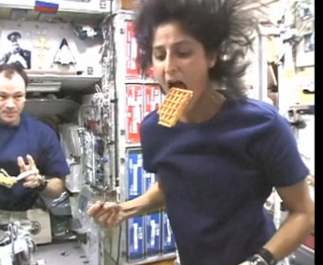 Suni Williams eating a waffle
Another important feature of food preparation for space is that astronauts report food tasting different in space: Kloeris explains - "A lot has to do with the change in aroma that they're getting from the food... When we have a cold, everything tastes like cardboard."
Hot air doesn't automatically rise upwards in microgravity, which affects aroma and then astronauts have to eat from bags. Plus there are competing odours in the ISS not all of which are necessarily pleasant, Kloeris adds. ®