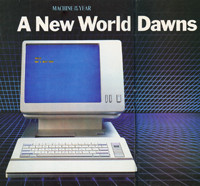 Time; January 3, 1983: The opening art
of Time's multi-story special report,
which tried to answer the question,
'What are these television-typewriter
things, anyway?' (click to enlarge)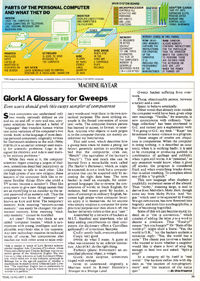 Time; January 3, 1983: Can you grok this
cuspy frobnitz for gweeps?
(click to enlarge)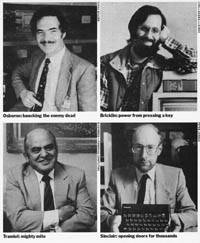 Time; January 3, 1983: Four personal-
computing pioneers. Hmm ... can you
guess which one is the coder?
(click to enlarge)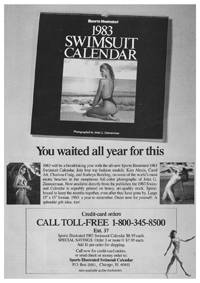 Time; January 3, 1983: This ad proves
that some traditions still endure. Oh, and
know that 1983's swimsuit sex bomb,
Kim Alexis, is now 52 years old
(click to enlarge)
The Computer Moves In
The personal computer, as any true geek knows, wasn't born in 1982, the year of which Time speaks when it refers to The Machine of the Year.
It's impossible to pinpoint exactly which device first moved computers from the enterprise mainframe's glass cage to the average desktop, but there's a consensus agreement that the personal computer movement kicked off when the MITS Altair 8800 was featured on the cover of Popular Electronics in January 1975. Your mileage opinion may vary.
In any case, the Altair's appearance was a full eight years before the personal computer moved from its hobbyist ham-radio-operator-turned-chiphead infancy into the budding society-changer that Time celebrated in its January 3, 1983, issue – although their editors didn't seem wholly convinced:
Time; January 3, 1983 editorial by John Meyers: Says Senior Writer Frederic Golden, "Computers were once regarded as distant, ominous abstractions, like Big Brother. In 1982 they truly became personalized, brought down to scale, so that people could hold, prod and play with them."For all that computers have achieved, they can still prove frustrating. In April, Golden's machine inexplicably swallowed the cover story he had written on the Computer Generation.Meanwhile, Senior Writer Otto Friedrich resolutely tapped out his Machine of the Year story on his favorite machine of all: a 15-year-old Royal 440.
Clearly, not all Time editors had not yet embraced the future. The magazine's main coverage, however, was more optimistic – although they did point out that there were still more than a few holdouts. Ah, those damnable buggy-whip manufacturers...
Time; January 3, 1983 "The Computer Moves In: By the millions, it's beeping its way into offices, schools and homes" by Jay Cocks: ... the enduring American love affairs with the automobile and the television are now being transformed into a giddy passion for the personal computer.A new poll ... indicates that nearly 80 per cent of Americans expect that in the fairly near future, home computers will be as commonplace as television sets or dishwashers.Estimates for the number of personal computers in use by the end of the century run as high as 80 million.... about 10 per cent of the typewriters in the 500 largest industrial corporations have so far been replaced.Some senior officials resist using a keyboard on the ground that such work is demeaning. Two executives in a large firm reportedly refuse to read any computer print-out until their secretaries have retyped it into the form of a standard memo.In the race among machines priced between $1,000 and $5,000, Apple still commands 26 per cent, followed by IBM (17 per cent) and Tandy/Radio Shack (10 per cent). But IBM, which has dominated the mainframe computer markets for decades, is coming on strong.
In addition to theorizing about the future of personal computing, Time's writers also took a moment to report on the current state of the personal-computing market. After talking about the low end – Commodore, Sinclair, Osborne, and the like - they discussed $5,000-and-up "personal work stations".
Time; January 3, 1983 "The Hottest-Selling Hardware" by Phillip Fatlick: Apple is joining the [professional work stations] crowd with its long-awaited Apple IV (code-named Lisa), due to be unveiled in mid-January. Lisa's probable price range: somewhere between $7,000 and $10,000. The Apple V (code-named Mackintosh [sic]), on the other hand, due out in mid-1983 and priced around $2,000, could be a true mass-market machine.
To step out of the computer world for a moment, and to prove the old adage of plus ça change, plus c'est la même chose, here's a letter to the editor from Time's "The Computer Moves In" issue:
Time; January 3, 1983 letter to the editor from Flinn Hudson: Gay families should receive the same rights as those allowed to traditional families. Since gays are among the taxpayers and consumers who pay for such benefit, they should have a share in them.
To paraphrase an ad campaign popular during those years, we haven't come all that long a way, have we, baby?