Ofcom has laid out the rules regarding White Space devices, kicking off a consultation process which could see devices on the shelves around the end of next year.
The rules are complicated, because devices operating in White Spaces have to consult with an online database for usable frequencies, and check back regularly to ensure nothing has changed, but the potential is huge as White Spaces can be used to create hotspots spanning cities and could be the way all radio spectrum is eventually managed.
The rules confirm that white space devices will be licence-exempt, so as easy to buy as a Wi-Fi router, but users won't be able to configure them manually (indeed, there will be no such option) as they're designed to first check with Ofcom and get a list of approved databases, then use one of those databases to find out what bands are empty locally before passing that information on to slave devices which might lack their own internet connection.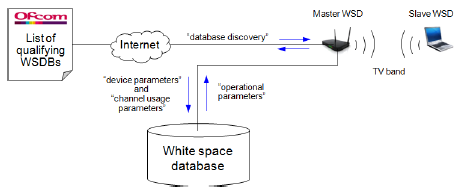 Device manufacturers will have to pay those running the databases, though in America Google has offered to run one for free, and might yet do so, but in the UK devices will have to check with Ofcom first in case a database has had its licence withdrawn. Devices which can't get hold of Ofcom can use their remembered list, but have to check back every hour to see if the Ofcom cloud is back.
The regulator had planned to let the databases calculate their own availability data, based on the location of TV transmitters and registered PMSE users (Programme Making & Special Events, who get first dibs), but it is now considering whether it should do the calculations itself, providing a list of available bands for every 100m square in the UK.
Devices will have to submit their model number and name, along with an indication of antenna size (portable or fixed) and the radio technology they plan to use, as White Space can be used for anything, with Wi-Fi and LTE both being tested along with new standards. The database then takes account of all that to calculate the maximum permissible transmission power, which the device can use for 24 hours before it has to check back in again.
Even then there's no guarantee other White Space devices won't be using it, though databases may work together to prevent conflicts and devices are required to report back on what they're actually using. At least one database provider (Spectrum Bridge) plans to enhance its offering by collecting data from the devices, though Ofcom isn't going to get drawn into such "enhanced functionality" for the moment.
The regulator hasn't decided on how to "qualify" database providers either, though that will come. For the moment it just wants to know if it's gathering the right data from the devices, and is providing them with the right information, and whether XML-over-HTTPS is the right way to communicate them.
Those who feel strongly about the matter have until 10 January to respond to the full consultation (PDF, fascinating, if one is fascinated by radio protocols), while the rest of us can just be glad the White Spaces are getting closer... even if they're still just out of reach. ®