This article is more than 1 year old
Applied Micro shows off X-Gene ARM server prototypes
Systems pr0n 101 to build excitement
Applied Micro Circuits is not yet shipping its first X-Gene ARM-based processor aimed at servers, and it is going to be a while yet before it can get the processors into the field. But because there is so much at stake, Applied Micro can't afford to be left out of any conversations about ARM Holding's attack on the data center. The reason? It has invested very heavily (at least relative to its size) in this X-Gene project.
And so the top brass at Applied Micro have to keep talking. First, back at the Hot Chips 24 conference in August, Paramesh Gopi, the company's president and CEO, and Gaurav Singh, vice president of engineering for ARM and PowerPC processors, gave out details of the forthcoming eight-core, 64-bit X-Gene server-on-a-chip processor and its on-chip coherent network. Gopi even whipped out a sample server card just to show what a card using the X-Gene processor might look like.
In the wake of the ARM TechCon conference last month, Gopi confirmed that the X-Gene chip was on track and that it would tape out sometime during the second half of this year (time is running out there, obviously), with first samples coming back from Taiwan Semiconductor Manufacturing Corp during the first quarter of 2013. The plan is for early shipments of X-Gene processors and systems using them towards the end of 2013. And as for Calxeda and its partners - Advanced Micro Devices, Cavium, and possibly Samsung Electronics - when it comes to 64-bit processors, Gopi says they will not be able to catch up.
"Nobody is going to get anything synthesizable very quickly," asserts Gopi. "We will have a year lead on them, minimum."
Calxeda has four-core, 32-bit ECX-1000 processors, announced last November and shipping earlier this year, and plans for a kicker called "Midway" based on the Cortex-A15 design from ARM Holdings and sporting 40-bit memory addressing for next year, according to its roadmap. There are applications for which 32-bit processing is enough, and 40-bit addressing will be fine, but it is clear that it is desirable for all chip architectures in the data center to be at 64-bit for processing and memory addressing just to simplify code porting.
Around this time in 2014, Calxeda will have its "Lago" 64-bit ECX processors in the field, and it is shooting for a fabric interconnect that will be able to span up to 1 million nodes over the next couple of years.
Applied Micro has some competition, and it definitely wants to use whatever lead it has to advantage. In the absence of product or a roadmap, Applied Micro is instead showing off prototype board and system designs using the initial X-Gene chips. (The company has said that its next-generation X-Gene chip will have 16 cores, but has not yet said much else.)
Here's the prototype XCompute system: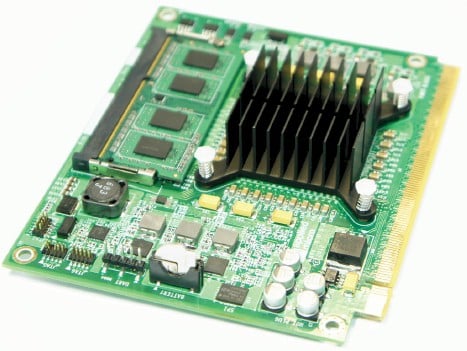 The X-Compute board based on the Applied Micro X-Gene ARM server
This X-Compute card has one X-Gene processors, for a total of eight ARM cores, plus 128GB of main memory, three Gigabit Ethernet ports, and one 10 Gigabit Ethernet port. This compute module will be good for systems running memcache, security, web application, load balancing, and data analytics workloads, says Applied Micro.
For heavier memcache workloads as well as database serving or search engine processing, Applied Micro has cooked up this prototype, called X-Memory.

A memory-intensive X-Gene server prototype called X-Memory
The X-Memory machine has two X-Gene chips, for a total of 16 cores, and presumably has NUMA or SMP networking to last those machines into a single system image. (Applied Micro is not saying.) The server has 256GB of main memory plus three Gigabit Ethernet ports and two 10 Gigabit Ethernet ports.
Some workloads are more storage-heavy than they are compute- or memory-heavy, and Applied Micro has a prototype for that, too.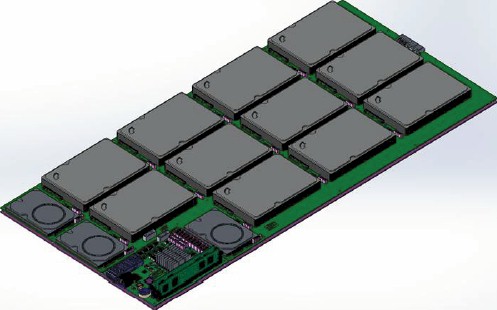 An X-Gene storage node, perfect for Hadoopery
It's called X-Storage, and it has a big, flat system board with eleven 3.5-inch SATA drives and another three 2.5-inch SATA drives with one of those X-Compute boards on it. This prototype has one eight-core X-Gene processor with 32GB of memory plus one Gigabit and one 10GE networking port. Those 14 SATA drives have a combined 36TB of capacity, which suggests there are eleven 3TB drives and three 1TB drives. It would be interesting to have flash-based SSDs on this board to accelerate the storage and possibly front end the disk drives.
Finally, Applied Micro was showing off a custom Dell box using its X-Gene chips: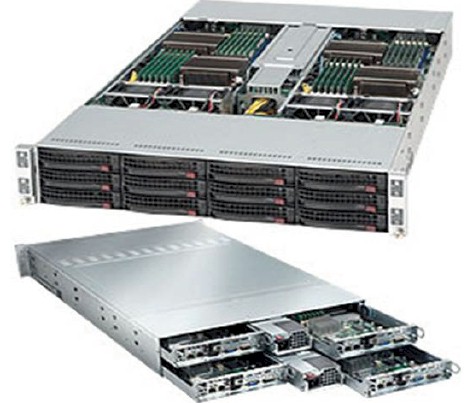 The Dell sled server X-Gene prototype
This foil shows two different Dell boxes, and it is not clear they are actually related to the custom Dell box under development. But what Applied Micro says is that Dell is working on a prototype machine with six X-Gene processors, for a total of 48 cores, with 192GB of memory. Each sled in the system has one Gigabit Ethernet and two 10GE links and a dozen SATA connectors to link out to a companion storage sled in the chassis. ®