Driverless trucks roam Australian mines
210 tonne monsters haul 300 tonnes of dirt with GPS guidance
Mining company Rio Tinto has turned to driverless trucks to operate mines in Western Australia.
The multinational digger has just confirmed it has let the trucks roam free at the Nammuldi iron ore mine, a hole in the ground located in more or less the middle of nowhere, as the nearest town, Tom Price, is 60km away. Nammuldi and Tom Price's climates are unrelentingly unpleasant. Workers are hard to come by and the cost of living is high. Even those hardy folk that do work on site often do so on a 'fly-in, fly-out' basis that sees them spend a fortnight or so on site before retreating to a more pleasant locale.
Bots of any sort are therefore a very sensible idea.
One of the world's largest mining truck manufacturers, Komatsu, twigged to this a while ago and created an 'Autonomous Haulage System' dubbed 'Frontrunner' that sees its flagship 930E dump truck 'driven' by GPS.
While the trucks can be controlled from a Perth facility, they are fed pre-determined routes to follow. On-truck radar can sense the presence of anything in the vehicles' path, and the truck can then pilot itself around the obstruction and get itself back onto an optimal path.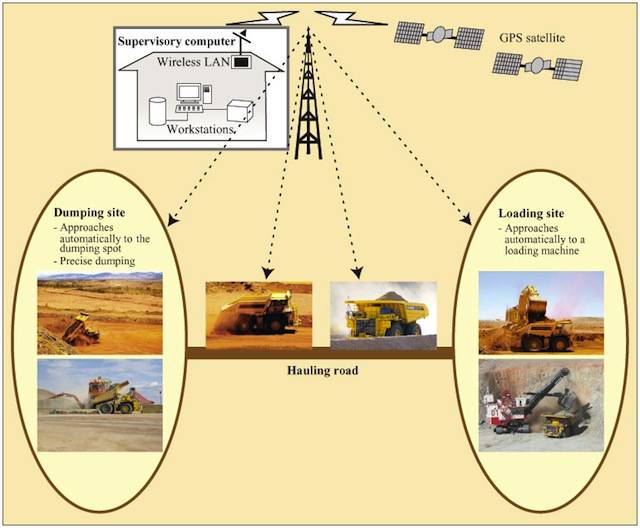 The trucks can even 'chat' to digging machines to learn their GPS co-ordinates and back up ready to receive a new load, before heading off to drop a few hundred tonnes of ore at the romantically-named "dump point".
Autonomous trucks are said to be more efficient than the same vehicles driven by humans, as they are driven with fuel-saving efficiency, don't need as much downtime and operate 24x7 if required.
The Nammuldi trucks aren't Rio Tinto's first autonomous dumpers: the miner has already used the technology at other sites where they clocked up more than 450,000 kilometres of service. But the Nammuldi implementation is its largest to date and the company plans a fleet of 150 autonomous trucks. While the video below ominously declares the trucks "the future of mining", it also goes to pains to point out that there's plenty of work for those who previously sat behind the wheel.
Rio Tinto also operates autonomous trains. ®