Storage networking and Ethernet supplier Brocade has done good, with record fourth quarter and full year results; pats all round boys. But you're still stuck in a mature market rut with no breakout yet visible.
Quarterly statements from publicly-quoted storage companies provide a clear snapshot of how they are doing; there's no marketing BS in GAPP (Generally Agreed Accounting Principles) revenue and profits numbers, enabling us to compare how different companies are doing and see how their business is progressing quarter by quarter.
In Brocade's case the business is doing good, with one proviso, and we'll get to that. First the fourth quarter; revenues were $578 million, a record and 5 per cent up year-over year, and 4 per cent higher than the previous quarter, but then Brocade typically has a good fourth quarter as its reps pull out the stops. As world-wide sales boss Ian Whiting departed earlier this year, with CEO Michael Klayko picking up this responsibility, it's good that the troops have done their stuff.
Looking at the revenue trends in the chart below we can see that Brocade is essentially growing slowly; it's in a mature Fibre Channel market and milking it well with 16Gbit/s switches and directors product but future growth is elsewhere, in Ethernet, and we all know that.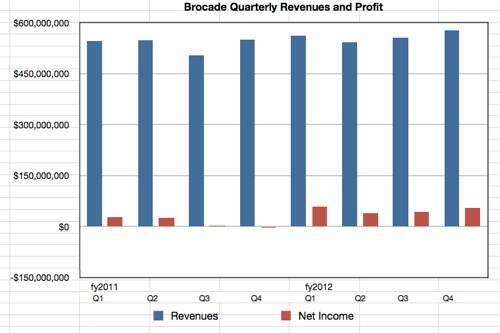 Profits for the quarter were $54 million and this was the third quarter of steady profits growth, as the chart shows:-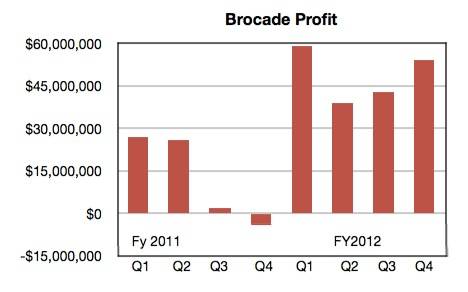 The year-ago dip into a loss has been well and truly reversed. Now let's look at at full fiscal 2012 year (fy2012) numbers. Revenues reached $2.238 billion, another record but just 4 per cent up on fy2011. Profits were $195.2 million, much better than last year's $50.6 million, almost four times better in fact.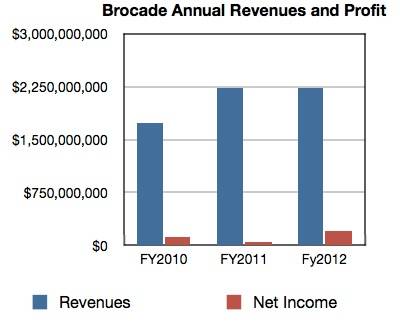 Brocade's annual revenue growth flattens
Is it that old mature market syndrome again? Let's take a gander at the product segment info.
For the fourth quarter:
Storage Area Networking (SAN) business revenue, including products and services, was $394 million, up 9 per cent year-over-year and 4 per cent quarter-over-quarter.

SAN product revenue on its own increased 12 per cent annually and 5 per cent over the previous quarter.

Within that 16 Gbit/s Fibre Channel products represented nearly 35 per cent of director and switch revenue in the quarter. Cisco has not yet come out with its 16 Gbit/s Fibre Channel products leaving the field wide open to Brocade.
IP Networking business revenue, including products and services, was $184 million, down 3 per cent year-over-year and up 4 per cent quarter-over-quarter.

Ethernet switch revenue was up 5 per cent year-over-year and 1 per cent quarter-over-quarter.

Routing revenue was down 10 per cent year-over-year and up 9 per cent quarter-over-quarter. It was affected by delayed large projects in enterprises.

Federal and Service Provider revenues were both up sequentially.

Enterprise revenue was lower.
For the full year: The SAN business revenue was $1,578 million, up 7 per cent year-over-year. The IP Networking business revenue was $659 million, down slightly year-over-year.
Sixteen gig Fibre Channel products are doing well. It's a mature market but still growing and healthier than tape. The assault of iSCSI SANs on Fibre Channel (FC) is not having anywhere near the same effect as that of disk backup on tape backup.
Ethernet products are a mixed bag, with Routing revenue looking the poor performer dragging down the segment. Switching revenue grew fairly well looking at the forth quarter this year versus last year, but it was virtually flat quarter-on-quarter. New MLXe routers were announced in the fourth quarter and that might improve things.
CEO Michael Klayko referred to none of this in his overall statement:
"Our product portfolio across all areas of our business is the strongest it has ever been and we are driving industry transformation in emerging areas of growth including virtualised data centres, cloud computing, and software-defined networking. We believe Brocade is well-positioned for continued growth in fiscal 2013."
He's set to resign (background here) and ready to hand on the CEO's baton.
In an earnings call with analysts Klayko was keen on software-defined networking:
"We are … leading the industry in key areas of SDN, including support of OpenFlow on our high-end router family … we see SDN as a disruptive force, reflecting the needs for networks to be much more flexible and elastic … We believe the network of tomorrow will be much more open, not closed, and it will include software and hardware components for multiple suppliers working together. Most importantly, we believe this transition represents significant new business opportunities for Brocade in working with service providers and enterprises."
Cisco may be the elephant in the networking room but customers want alternatives and that leaves space for Brocade, if Klayko is right.
Brocade also said it is building out a 2-tier channel organisation to better sell Ethernet products to enterprises, and this is quite a long process.
Next quarter's revenues are expected to be between $565 million to $585 million, with economic uncertainty helping to keep the estimates down.
Asked about progress in recruiting a replacement CEO Klayko said the board is being "very diligent … a lot of progress has been made to the point that this will probably be my last [quarterly] earnings call with you ..."
Done and dusted by mid-February 2013 then. ®