This article is more than 1 year old
Phone with Facebook hardware button lobbed out by Nokia
Press this for instant adverts and jabber
Nokia's latest Series 40 blower, a dual-SIM model aimed at developing markets, has a Facebook button, the first device from the Finns to feature such an innovation.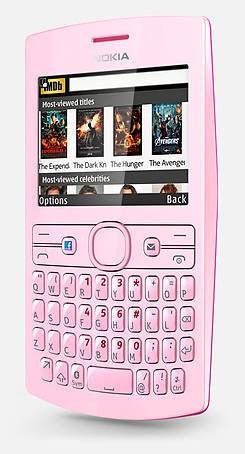 It's not only in pink, but pink is prettiest
The button on the front of the Asha 205 triggers the Facebook app, providing instant access to updates and status feeds for those who haven't time to bother with menus, icons or other social networks.
The new handset also has a bump-to-send feature, called Slam, which sends a file to the nearest Bluetooth device on request, a nice feature which should work with any Bluetooth device.
The cheap-as-chips Asha range, which all use Series 40 software, includes a mix of touchscreen and keyboard-fitted devices. They are aimed at developing markets - such as India, Africa and parts of Asia and Europe - where customers want smartphones but don't want them enough to shell out for a Windows Phone.
Several Asha handsets, including the 205, support multiple SIMs enabling the user to take advantage of tariff offers from different networks.
Which they'll want to do with the Asha 205 as it although it has a button for instant Facebook access, it doesn't have Wi-Fi to provide decent connectivity to the social network: so unless one of the operators bundles some sort of cheap and reliable Facebook access it could get expensive. ®