Cell division
The 840, on the other, hand uses the company's 21nm Toggle three-bit per cell TLC (Triple Level Cell) NAND and is the first drive to market using this type of NAND Triple Level Cell NAND (TLC) Triple Level Cell or TLC NAND is an alternative to shrinking the NAND die to try and get a better density by increasing the number of bits per cell. Instead of using 1-bit per cell (SLC) or 2-bits per cell as in normal MLC NAND, TLC uses 3-bits per cell.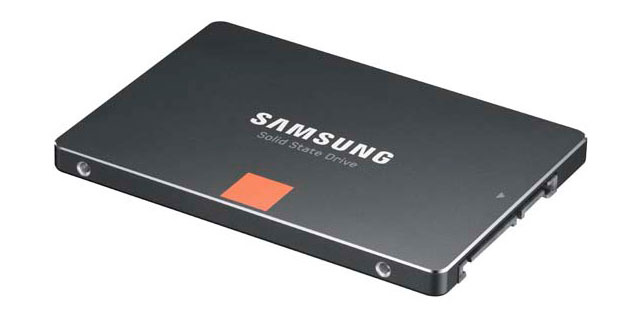 Same enclosure, yet vastly different tech in the SSD 840 and SSD 840 Pro
The more bits that can be packed in per cell means more GB per die and therefore more GB on a wafer without the need to shrink the die. However everything in the garden isn't rosy. The performance of TLC NAND suffers in comparison with the other two types due to the number of control voltages used for reading and writing to the memory.
SLC has just two voltage levels to check, so random reads are very fast while MLC, with its four voltage levels, takes twice as long. TLC has eight voltage levels, so it takes twice as long again, so random reads take longer and, potentially, so does any programming.
But that's not the only drawback with TLC featured in the basic SSD 840, the elephant in the room is NAND endurance. The actual P/E (program/erase) figures for TLC are not available yet, but as a ball park figure, it's thought to somewhere between 1,000 and 5,000 cycles compared to the 5,000 – 10,000 of MLC or the 100,000 cycles of hyper expensive SLC NAND flash.
Given these various factors, just how well do the 840 and 840 Pro compare to each and what more do they have to offer in relation to the SSD 830? Read on.
Samsung SSD 840 Pro
The 840 Pro range capacity starts with the 128GB (£120) and goes up to 512GB (£450) and I've the 256GB (£203) unit to test. The Pros are only available as bare drives and come with a 5 year warranty.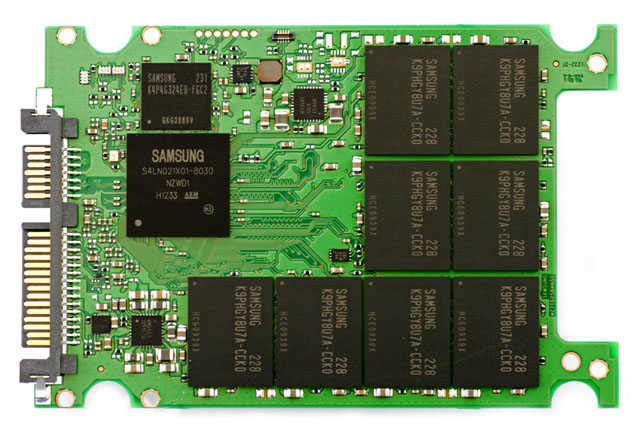 SSD 840 Pro layout
Given its business focus, the firmware (DXM02B0Q) for the 840 Pro is aimed at producing high performances under heavy loads. In addition to the 256-bit encryption, it also has WWN (World Wide Name) enabled and LED indicator support. These last two features are particularly useful when the drive is integrated into storage or server systems.
Similar topics