Bash Street bytes: Do UK schools really need the Raspberry Pi?
Does Britain really need to be a nation of coders?
Pi practicalities
Mr Griffiths is keen to stress that for those who want to devise portable, electronic engineering devices, the Pi is a great product. Ditto when it's used as an affordable, programmable computer for cash-strapped individuals. But in a school-lab set up with computers already, "it's not going to give me anything I can't get on the PCs already here".
Similarly, Dave Eustice, head of IT at Raynes Park High, South-West London will be getting just five Pis "so that children can have some exposure to them. We'll have a carousel of activities, and one of them will be using the Raspberry Pis". It's an approach being applied by other schools in the borough, he says. The Pis complement the curriculum, but to use them as replacements for main workstations in a school environment is unrealistic.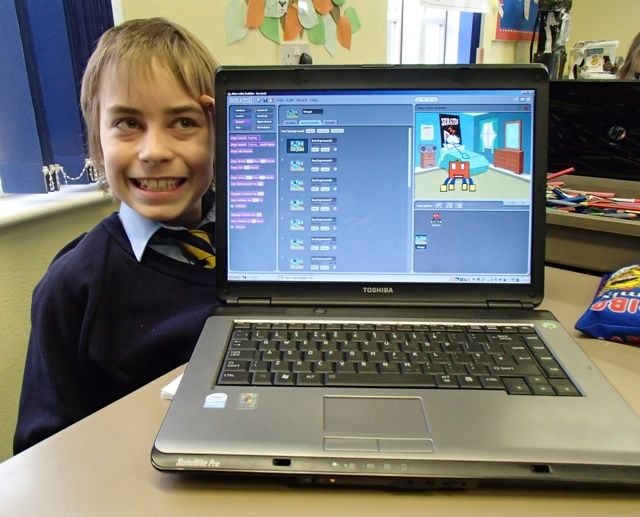 "You can have someone at your control." Alex Blunt enjoys the measured creativity that Scratch brings.
Source: Giles Hill
Mr Griffiths explains that one of his Year Ten students beat him in the rush to buy a Raspberry Pi. The lad is the type of student he wishes he had more of, with "a very natural coding talent". That said, this student managed to break his first Raspberry Pi, through everyday handling and use, and by the time his second order turned up, "he'd lost interest [in it] and moved on to other things".
The "other things" Griffiths mentions include the Greenfoot Java online learning system, and programs like AppInventor from MIT. Griffiths explains that with this freebie, students can create "Android-based apps that they can immediately run on their mobile phones or tablets", gadgets kids these days are intimately familiar with and excited by.
This is crucial. "The teaching of programming needs to be done with an eye to how students will engage with it," adds Jenny Griffiths.
It's not hard to appreciate that creating, modifying and then sharing apps - getting other people to use them, in other words - is likely to capture and sustain the interest of children studying Computing. But surely if we want to get away from the stereotype of programmers as socially inept males, and encourage more girls to get involved, plugging into the technology that children most engage with will get a more them to participate?
Up to Scratch?
Plenty of recent media coverage has partnered Scratch with the Raspberry Pi as if MIT's kid-centric coding system was invented for the Pi. It wasn't.
Scratch is a wonderful learning tool. Tasks can be easily differentiated: that is, different objectives, within a common theme, can be assigned to different-ability children, within the same lesson. For teachers like me, another of its joys is that it will run on most of the half-baked, crusty old PCs still found in Britain's schools. It's also free and comes with some decent teaching resources.
Some say using Scratch isn't real programming, but the advantage of being able to drag and drop code components – for kids to have visual feedback throughout a task, without getting hung up on syntax – is what makes it a brilliant first step into programming for all children, not just the code-minded.
I'd argue that Scratch is a far more fundamentally useful teaching tool, disguised right there as part of the Raspberry Pi package. Like many parents and teachers who have seen kids get creative with Scratch, I've been impressed by watching children as young as seven experimenting with making sprites move in different ways, working out collision detection and creating game mechanics.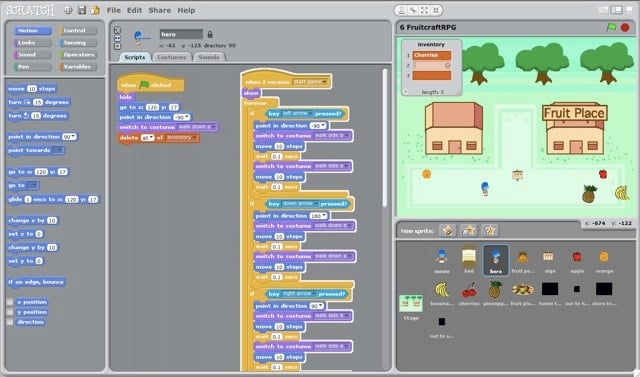 MIT's Scratch: drag'n'drop programming to teach logical thinking if not coding too
All primary age children love Scratch. It very easily engages with them at their level, whether they can type and read, or not. Programming in a Python window will never fulfill that requirement. When the new framework for ICT gets primary school teachers in a panic with its algorithm objectives, it's the easily understood, no tech problems, integrated environment of Scratch that they'll be downloading.
If there's an aspect of the Raspberry Pi that really shouldn't be ignored by schools, it's the mass of hobbyist mobile inventions that seem to be springing up. Those Raspberry Pi balloons going up into the stratosphere with cameras? Amazing. The bird-box that sends a tweet (ha, ha) when a bird enters? Incredible. And competitions like Manchester University's The Great Raspberry Pi Bake Off are great for the country's young Raspberry Pi enthusiasts, in and out of school.