Apple granted patent for microphone silhouette
Shambolic Siri's icon blessed by hard-working USPTO drones
As if further proof were needed that something is broken at the US Patent and Trademark Office, it took a full 411 days for their staffers to grant Apple a design patent for iOS's Siri voice-recognition icon.
Not the Siri technology itself, mind you, but merely its microphone-in-a-circle silhouette icon.
Design patent D671,558, "Display screen or portion thereof with icon", was applied for on October 14, 2011, and granted to Apple by the USPTO this Tuesday.
The "Inventors" of the microphone silhouette are listed as Freddy Anzures and Alessandro Francesco Sabatelli. The Reg salutes their artistic achievement.
Before you leap to your feet and shout that a line drawing of a microphone is not exactly sui generis, know that Apple does acknowledge some other microphone silhouette examples. We can only assume that the exact centering of the Siri microphone icon's mounting bracket and the circle in which it is enclosed give Apple its claim of uniqueness.
Would that the performance of Siri itself were as successful as Anzures and Sabatelli's design-patent application. After being acquired by Apple in April 2010, Siri made its wildly hyped way into iOS with the introduction of the iPhone 4S in October 2011, at which time we dismissed it as "a bit of a gimmick – even if it works as advertised."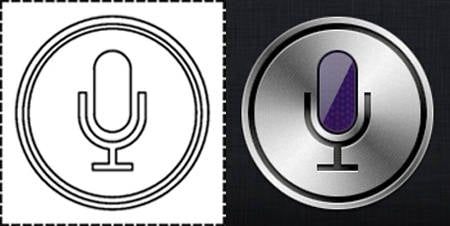 On the left, the patent illustration; on the right, the Siri icon in iOS 6
Well, it turned out that Siri didn't even work as advertised. Users could forgive her occasional outage, trouble with accents, and bursts of profanity, but not the li'l lady's generally crappy performance. Lawsuits appeared, first in New York, then another in Los Angeles.
Apple hasn't give up on Siri, though. She was upgraded this year in iOS 6 to add improved sports info and restaurant and movie listings, and just this Tuesday General Motors announced that it would incorporate Siri's "Eyes Free" mode in its upcoming Chevrolet Spark and Sonic cars.
However, as an iPhone 5 user, your Reg reporter can vouch for the fact that the ol' girl still richly deserves her ongoing beta status.
But at least that microphone-silhouette icon is secure, thanks to over a year of deliberation by the USPTO. ®