Chevrolets to get 'Eyes Free' mode for driving with Apple Siri
Took my Chevy to the levee, my phone said it was dry
Cars controlled by Apple's voice assistant Siri will be on the road from early 2013, a General Motors exec announced today at the Los Angeles International Auto Show.
New models of Chevrolet's smaller models - Spark and the Sonic LTZ and RS - will pack an interface that's compatible with whimsical iPhone voice assistant Siri. The new cars will be on sale within in months, GM confirmed in a statement.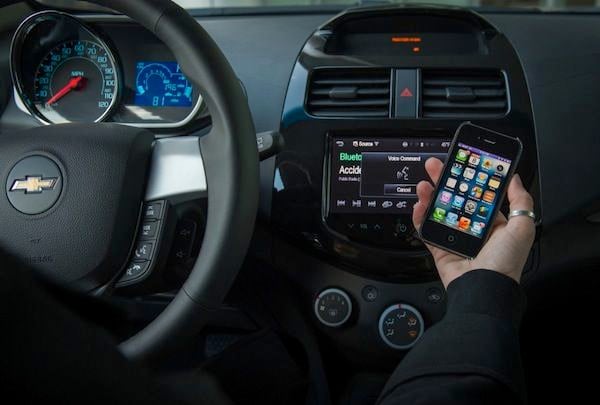 Pairing the iPhone to your Chevvy's Mylink system. In Eyes Free mode, the screen would be black
Siri will not be controlling core driving functions of the cars - fans of road safety may be pleased to hear - but General Motors has instituted an "Eyes Free" mode which allows users to control all the functions of their iOS device by just by talking to it.
In Eyes Free mode, the device's screen will remain blacked out so that drivers will not be distracted by the screen and can keep their eyes on the road. Siri will also blank out any requests that it regards as too complicated in an attempt to protect the concentration of the driver.
The overall effect of Siri's famously whimsical back-chat on drivers remains to be seen. At the very least, it could result in some weird text messages, if Siri's previous failures to grasp spoken English is anything to go by.
In Eyes Free mode, users will be able to: make voice-activated calls, compose and send iMessages and texts, add appointments to their Calendar and play songs in iTunes. Siri will ignore questions that require it to open a webpage on the assumption that users shouldn't be looking at webpages when they're driving anyway.
The porting of the phone to the car is done over Bluetooth and will run through Chevrolet's MyLink infotainment system, which will accept Siri for the first time.
It will of course be only available to those with Siri-enabled phones - iPhone 4S and 5. General Motors announced it was working on 'Siri cars' back in June at the Apple Worldwide Developers Conference. ®