This article is more than 1 year old
Tool time with Trevor: 'Organic' sysadmins' spice mush still pretty edible
When 'eat what's in front of you' just won't wash
Sysadmin blog I've talked before about Spiceworks as a social network. It's time to look at the application that serves as the carrot to get you hooked on that social network. Spiceworks has an organic development history; it has grown through developer vision but also through end-user and vendor feedback. This is both Spiceworks's greatest strength and its kryptonite.
There is so much development going on so many different areas that making sure all the bits are joined up and intuitive is difficult. Spiceworks is and automated software and hardware inventory scanner, network monitoring, security scanner, knowledge base and enterprise resource planning software all in one.
Worse, it's hard to get a handle on what Spiceworks is trying to be; what's the grand vision, the endgame? I can tell you exactly what products by Microsoft, VMware, Symantec and so forth aim to be; I've been using Spiceworks for years and it still takes me at least two paragraphs to describe it.
Hello... IT?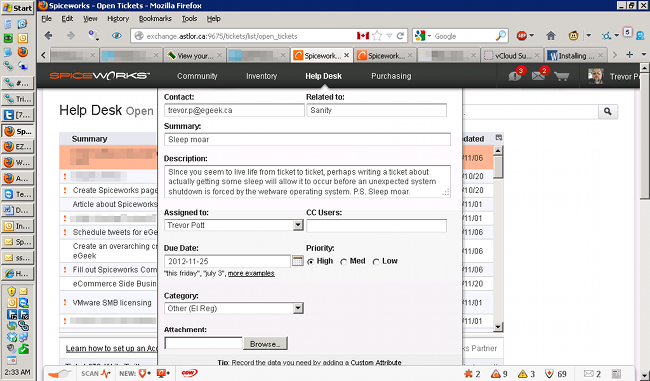 The helpdesk portion of Spiceworks is solid. Set up your email servers within the app and you receive new tickets simply by having someone email you at the email address you've configured. Any updates you make to a ticket go out to the attached users and so forth. If you had to buy something to solve the problem, you can document that within Spiceworks; this has saved me prolonged periods of "where did this come from" more than once. There's even a customizable end-user portal where they can manage their own tickets.
The basic functions are intuitive and easy to master, but some things leave me asking exactly how the devs thought a given workflow was a good plan. The glaring example is ticket categories. The idea of being able to place tickets into various categories is great; the fact that you can't spawn a new ticket category at ticket creation - you have to create the category later by digging into the ticket details - is the worst kind of frustrating lunacy. My wife's experiences with the help desk system mirror my own:
The most basic parts of creating a new ticket are easy, even for the rawest sysadmin recruit. Assigning a ticket to a helpdesk staffer, setting a due date, setting a priority level for the task, and typing comments as the work progresses are all perfectly self-explanatory. It's also easy to find pre-existing tickets; Spiceworks has them sorted into useful lists.

But whatever you do, don't try to just check up on a ticket using a 1366x768 or lower screen. Some of the popup windows in Spiceworks can't be dragged. If you view them on a small screen you may not actually be able to get at the relevant buttons to click them and you will go mad.
It's easy to dwell on the flaws - we all do, regardless of product or provenance - but the issues with the helpdesk side of Spiceworks are ultimately fairly minor. While irritating, they don't get in the way of a useful and usable product.
Have you tried turning it off and on again?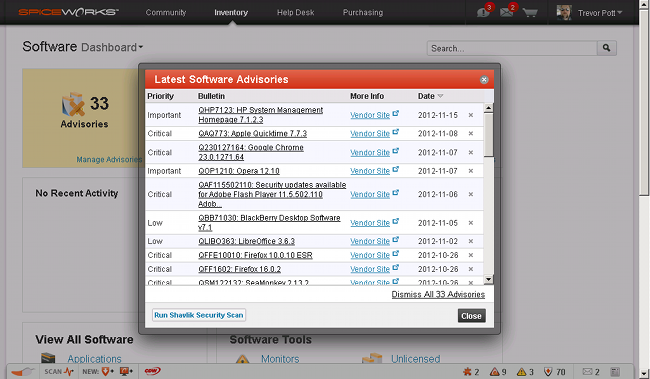 Spiceworks has a hardware and software inventory system. It is agentless - so you'll need to open ports to allow the scanners through - and you might have to reconfigure the scanners if you use nonstandard ports. The hardware scanner picks up everything it can about the system - manufacturer and model number of the various components, free space on the various storage volumes, even which RAM slots are populated and by what.
The software scanner it identifies what is installed, what patch level it is and whether or not it is licensed. There's a cloud services scanner as well; it will pick up things like Dropbox or Teamviewer and report back to you who is using what. The cloud services scanner will even try to find out which domain names are hosted on your servers; it will then find out which registrar they are registered with, whether the primary site sports an SSL certificate and how long remains until expiry.
Spiceworks picks up my Hyper-V and VMware hosts just fine. It identifies them as hosts, lists the VMs hosted on them, and even offers me the ability to turn the individual VMs on or off. It picks up my SIP phone and one of my switches, but can't see the other switch and is confused by the Drobo. That means Spiceworks is batting pretty average compared to the other bits of monitoring software I've played with so far.
To be perfectly honest, there's nothing particularly special about the "inventory" section of Spiceworks ... except that it's free. I can think of a dozen or so comparable products; some are better, most aren't free. The reason that Spiceworks is worth a boo for your inventory needs is that it ties in reasonably nicely with the ticketing system.
Less than 10 per cent free disk space on the domain controller VM? Create a ticket. RAID controller reporting a dropped disk on the backup servers? Create a purchase order, get it sent out to your top 5 vendors for a quote. It's a personal quirk, to be sure, but the bits I most like about Spiceworks are not those that aim to automate some technical aspect of my job ... but those that aim to automate the red tape of dealing with people.