This article is more than 1 year old
LOHAN cooks up tempting Raspberry Pi spiced with Iridium
Geekgasmic electronic fusion cuisine, side dish of Python
The electronics buffs among you should brace for explosive geekgasm, as the Low Orbit Helium Assisted Navigator (LOHAN) team serves up a tasty dish of Iridium-spiced Raspberry Pi, with a tempting side dish of Python.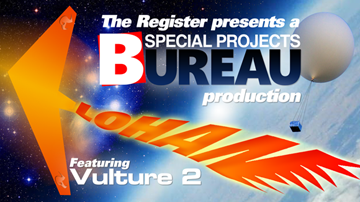 You'll recall that back in September, our audacious ballocket mission acquired an Iridium satellite comms capability, in the form of Rock Seven's RockBLOCK board.
Via Iridium's network of 66 Low Earth Orbit (LEO) satellites, the RockBLOCK can "send and receive short messages from anywhere on Earth with a view of the sky".
The obvious use for LOHAN is as a back-up tracker in the event that the radio systems traditionally used for High Altitude Ballooning (HAB) missions go titsup. The possibility of communicating with our fantastical flying truss from the ground, however, opens up interesting possibilities which are ripe for exploration.
Before that, though, we want to see just how the RockBLOCK shapes up as a payload tracker. Enter Dave Akerman - the HAB hero who managed not only to buy a Raspberry Pi computer at time of great want, but also dispatched it heavenwards to a heady 39,994m (131,200ft).
We've been following Dave's work for a while, and as he shares our penchant for stratospheric tomfoolery, it seemed natural to welcome him on board as the man with the Right Stuff to give the RockBLOCK a blast.
Here's the kit in question, featuring the Iridium 9602 transceiver...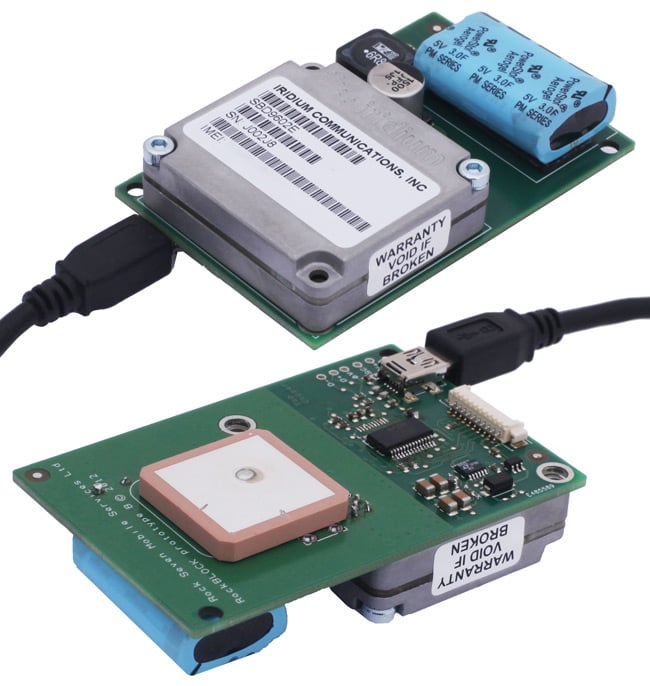 ...and here's how it looks mounted to a shield for an Arduino Mega board: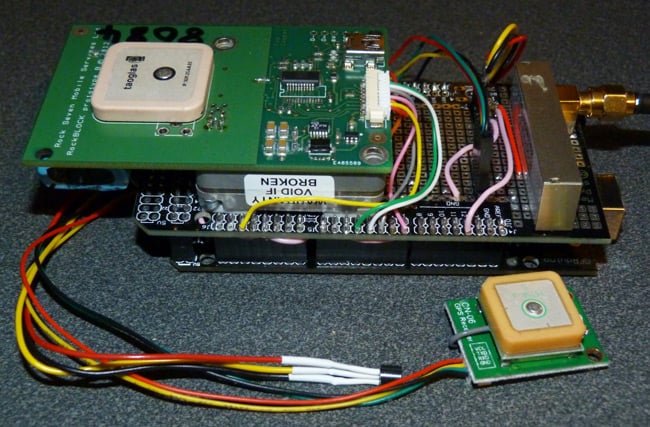 But why just have satellite comms, when you can integrate a radio capability into the system? Dave explained: "This is a dual-mode tracker, transmitting telemetry both via our usual radio system on 434.650MHz using a UBlox Neo-6N GPS receiver and Radiometrix NTX2 transmitter, and also via the Iridium satellite system."
The other component, just to the left of GPS receiver, is a DS18B20 temperature sensor, presumably to measure whether passing gear aficionados are in danger of spontaneously combusting as they admire the tracker's magnificent form.
Dave continued:
The radio side operates just the same as all of my previous trackers, sending out telemetry sentences via RTTY to a network of listeners distributed around the country and further afield. Telemetry is collated on a central server which then feeds a live map so we can see where the flight is at all times.

The tracker also sends out telemetry via the Iridium network. Messages here are limited to 50 bytes so the telemetry string only contains basic positional information. Rock Seven provides its own map which locates the Iridium device within a few km, but of course GPS is much more precise than that.

So inside those 50 bytes we encode the longitude, latitude and altitude of the device. The Rock Seven system is configured to pass all messages on by POSTing them to a URL.

That URL lands at a Raspberry Pi running a simple Python web server script, which receives the message and sends the telemetry to the database behind the same map as used for the radio telemetry.
Yes indeed. Here is said Raspberry Pi...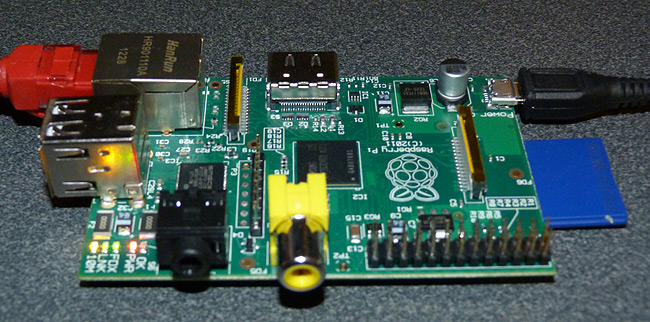 ...which feeds the live map with "ROCK" (Iridium data) and "ROLL" (RTTY data):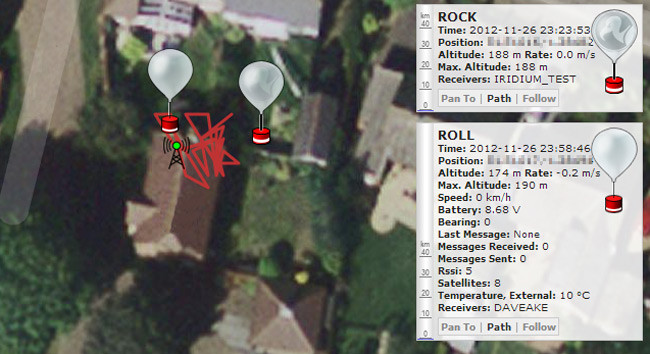 Magnificent. The good news is that you only need either the Iridium or the RTTY to work to get a position on the map. With both firing on all cylinders, it is indeed a matter of Rock'n'Roll.
When we first announced our hook-up with Rock Seven, company director Nick Farrell said he was "looking forward to venturing where no Iridium-based two-way communications module has ever gone before".
We too are looking forward to deploying our sat comms capability, although we'll be certain to keep a sharp look-out for wandering Russian satellites disabling part of the Iridium network in an attempt to scupper LOHAN. ®
Bootnote
Nick Farrell tells us the RockBLOCK will shortly be available for sale online to the general public. Check here for updates.
---
Further LOHAN resources:
---