Eben Upton, a key player in the Raspberry Pi's genesis, said out-of-work graduates should get busy with computers in their spare time if they want to land a job. And he didn't mean logging into Facebook.
Speaking in a Google Hangout video chat conference call thing, Upton drew on his years of hiring newbies at chip giant Broadcom and his time teaching computer science at Cambridge University.
He said graduates need to wow interviewers with their enthusiasm and proof of their ability to learn and develop - and that will involve spending long evenings hacking away at code, breadboards and pet projects.
"If you walk in the door here and you look bright, you're going to get hired," he told a graduate struggling to find work due to the Catch-22 situation inexperienced job-hunters find themselves in: it's hard to get onto the employment ladder and gain experience if nearly every company wants people with, say, a minimum of five years of C++ programming experience.
"If you're the right candidate that's the answer. For the right candidate, people will waive these requirements," Upton said.
Speaking of ways to make yourself stand out, the co-founder of the Raspberry Pi Foundation, which designed the cheap-as-chips ARM computer, said:
Be bright and be educated and be able to point to something you've done. People who suffer in our system are people who can't point to an interest in computers. We tend to hire people who are enthusiasts, who are hobbyists and I suggest you think of one little piece of evidence that you did something in the evening with a computer, maybe a Raspberry Pi; that you did something with computing that you didn't have to do. Something that you didn't do for the money is well worth a year that you turned up at a job.
And it's about being ready to learn new things:
I've worked for Broadcom for six years and when hiring people we probably cared more about our assessment of their ability to learn new stuff than their ability to do things when they come in the door. It's a foolish employer who hires just on the basis of what they know. An enlightened employer should do that.
An IT pro at the twilight period of his or her career could be helped by some Pi tinkering too, Upton reckoned. A recently unemployed 50-something with a long tech career that stretched back to feeding cards into mainframes asked how the Pi could teach him new skills, and Upton suggested that tinkering around with the wallet-sized machine could be an interesting way to get into embedded computing:
What's special about the Pi is that it is cheap. It's a very cheap Unix box, so it brings a range of opportunities in the embedded fields which traditionally required a very different skill set. A much more bare metal skill set.
Bringing a background in enterprise skills to hardware hacking could have some great results, Upton said. And the cheap price brought down the barriers to trying it out.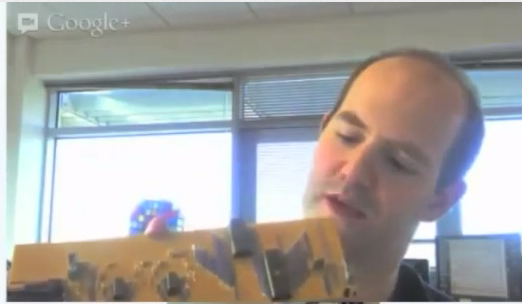 Eben Upton and a Raspberry Pi from 2006 in the Google Hangout
Watch the 26-minute chat, organised by CWJobs, here. ®