European Space Agency clears SABRE orbital engines
Skylon space plane gets its power plant
A British-built rocket/jet engine designed to enable Mach 6 flight and orbital capability has passed a key milestone, now that the European Space Agency has cleared the revolutionary cooler that fuels it.
The Synergetic Air-Breathing Rocket Engine (SABRE) extracts the oxygen it needs to fly from the air itself while in jet mode using the newly-approved cooling system, which consists of 50 kilometers of 1mm thick tubing filled with liquid nitrogen that can cool incoming air from 1,000°C to -150°C. It's key to the success of the Skylon spaceplane project run by British engineering firm Reaction Engines.
"The SABRE engine has the potential to revolutionise our lives in the 21st century in the way the jet engine did in the 20th Century. This is the proudest moment of my life," said company founder Alan Bond.
Bond has spent the last 30 years of his life working on the project, which envisages the Skylon spaceplane as a jumbo-sized craft powered by cryogenic liquid hydrogen and oxygen. The cooling system will supply oxygen for the jet portion of the flight, a Mach 5.5 burn up around 25km, before the rocket engines kick in to push the craft into orbit.
After delivering an estimated 15 tons of payload for a tenth of the cost of current systems, or taking 30 passengers for a ride, the craft de-orbits, reactivates its jets, and returns to its original runway. It needs a slightly longer than normal runway – and a tougher one, too, given its 275-ton takeoff weight – but the engine is a major step forward in fully-reusable orbital delivery systems.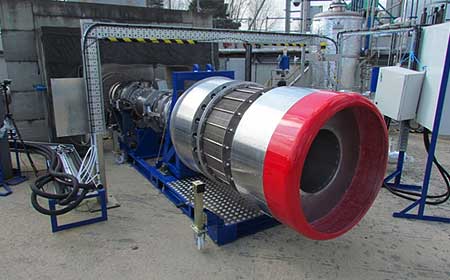 SABRE tests get thumbs up
The newly-cleared cooling system is also at the heart of Scimitar, Reaction Engine's commercial aircraft design, which is funded in part by the EU. This eliminates the rocket stage of the design, enabling Mach 5 flights of up to 20,000 kilometers, which would cut a trip from Brussels to Sydney down to four hours.
"One of the major obstacles to developing air-breathing engines for launch vehicles is the development of lightweight high-performance heat exchangers," said Dr Mark Ford, ESA's Head of Propulsion Engineering. "With this now successfully demonstrated by Reaction Engines Ltd, there are currently no technical reasons why the SABRE engine programme cannot move forward into the next stage of development."
With clearance obtained and over 100 test runs completed, the full prototype engine can now be built, albeit with some help from investors. The company needs £250m, around 90 per cent of which is going to have to come from private investors, although the UK government might kick in for a spaceport. ®