Far Cry 3 game review
Jungle warfare
In a few simple beats Far Cry 3's accidental hero, Jason Brody, goes from being nervy, spoilt rich kid to John Rambo, as his extreme sports holiday takes a turn for the worse. It's a forgivably quick process for plot development purposes, if an abrupt one, but made palatable by the use of subtle tricks skilfully employed to pull the player into the action.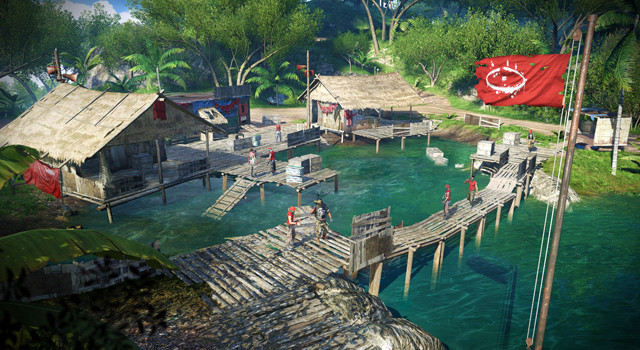 Base bawl
Like all the best tricks, Ubisoft Montreal's is all in the wrist (and hands to be accurate) as Jason's every action is punctuated by dramatic arm movements, each perfectly framed within the first-person perspective. Wince as he pulls shrapnel from his wounds following a grenade blast; scream as a snake sinks its fangs into his forearm, and sweat as he pumps his arms while running for his life.
What makes the experience all the more spellbinding is the perfectly complementary voice work adding layers to his character and plight. Rather than the silent protagonist that many FPS developers plump for, Jason is happy to narrate and relate his own actions, serving to drag you ever deeper into his world.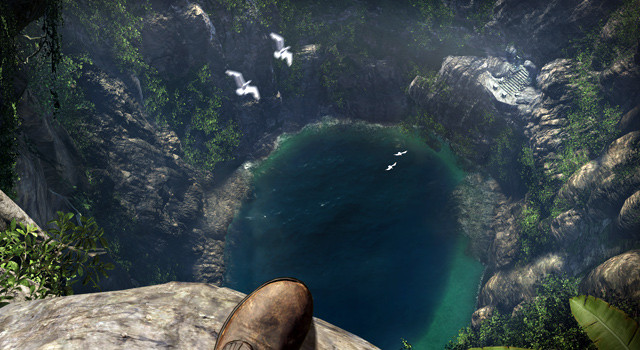 Even Tom Daley would brick himself here
And what a world it is, full of rich characters and the kind of open world freedom that even GTA would be hard pushed to match. Far Cry 3's Rook Islands, located where the Indian and Pacific Oceans meet, is a living, breathing and constantly shifting world complete with warring factions and its own ecosystem.
Under the tuition of Rakyat tribesman Dennis, Jason is soon tagged in the indigenous tribe's mystical 'Tatau' and sets out to rescue his captured friends. Not easy given they're at the mercy of Vaas, one of the most neurotic and, at times, terrifying characters ever committed to videogame fiction. Kudos to the voice work and scripting.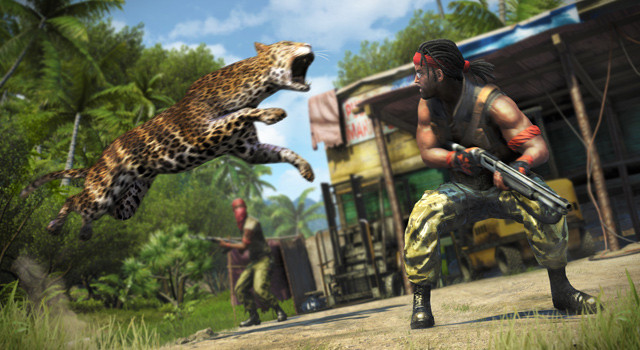 Threat spotted
To aid him, his newly acquired Tatau doubles as a levelling-up system. Experience points earned via completing objectives used to unlock fresh attacking options, improve his health regeneration, aid swifter movement, and suchlike.