IDC: A year of server revenue declines
Well, unless you are Dell, Cisco, Inspur, or Lenovo
---
Server unit shipments may have increased for eleven out of the past twelve quarters, but what matters more are revenues and profits – and according to IDC, the world's server makers have endured their fourth successive quarter of revenue declines in the period ending in September.
The IDC box counters reckon that 2.1 million units went out the door in the quarter, up a meager six-tenths of a point from the year-ago period. Nothing to brag about, really. And the revenues generated by those boxes was down 4 per cent to $12.2bn.
These numbers more or less jibe with those from IDC rival Gartner, which also just released its numbers for third-quarter server sales. IDC's publicly available data dices and slices the server racket differently from the freebie information given out by Gartner, and if you look at both of them, you can get a stereoscopic (if somewhat blurry) view of the server landscape.
Gartner looks at server sales at the vendor factory level by price band and by the machines' primary operating system, as well as carving out data for x86 servers separately and giving a hint about how various form factors are selling, as well.
All parts of the server business were impacted by the revenue decline in the third quarter, according to IDC. Volume system sales, which means machines that cost under $25,000, were off a half per cent, while high-end machines that cost more than $250,000 were down 8.9 per cent, thanks mostly to Unix and mainframe processor transitions. In the midrange, where system prices fall between these two extremes, revenues were down 14 per cent. The midrange is driven for the most part by big Xeon boxes and Unix machines.
As has been the case for the past decade, Linux and Windows systems are the preferred platforms, and Unix systems are waning – and even more so as IBM readies a more complete rollout of the Power7+ chip next year, Oracle readies its Sparc T5 and Sparc M4 chips for next year, and Fujitsu gets its Sparc64-X chip out some time in 2013. Intel has just shipped the Itanium 9500s, which along with Oracle's commitment to support its software on it, are going to help revive HP's next generation of Integrity and Superdome 2 HP-UX servers.
The point is, the third quarter was going to be crap for Unix sales no matter what.
And so it was, according to IDC. Worldwide Unix system sales across all vendors fell 14.2 per cent to $2.1bn. IDC believes that IBM's factory revenues for Power Systems machines running AIX actually grew eight-tenths of a point, and because Oracle and HP were falling so fast, Big Blue was able to eat 7.9 per cent of market share.
So, if your bonus is tied to market share gains and losses and you work for IBM, you're a hero, and if your bonus is tied to revenue growth and perhaps the profitability of a deal, maybe not so much. If you work at Oracle or HP, there's a good chance you are keeping your head low until next year, visiting lots of customers and trying to keep busy – maybe looking at selling Linux on x86 iron.
The reason is simple. In this down quarter, Linux server revenues were up 6.6 per cent to $2.6bn. The Linux share of the server-revenue pie increased 2.1 points year-on-year, and Linux drove 21.5 per cent of all server sales in the quarter. Even if you want to be kind and call Linux a kind of Unix, the combined revenues from these two types of machines was still down 3.8 per cent in the quarter to $4.7bn.
Windows-based servers now have a higher share of the server-revenue pie than Unix had at its peak during the dot-com boom. (Hard to believe, isn't it?) Windows server revenues actually fell nine-tenths of a point in the third quarter, but the market fell so much faster that Windows gained 1.6 points of market share and busted through the 50 per cent barrier to grab a 51.1 per cent stake of the entire server market.
Microsoft may be doing a whole lot of things wrong these days, but building up a massive systems software business for servers is not one of them. Watch out, though, Redmond. Inflection points can be a bitch, and we may have one coming up with ARM-based servers in 2014. Microsoft better have Windows Server 2008 R2 ready.
That leaves Others, which includes IBM mainframes and Power System machines running their proprietary IBM i operating system, HP's OpenVMS and NonStop machines, and a bunch of other midrange and mainframe kit from Unisys, Bull, NEC, Fujitsu, and Hitachi. Others had a very hard quarter, with revenues down 24.1 per cent to $1.32bn.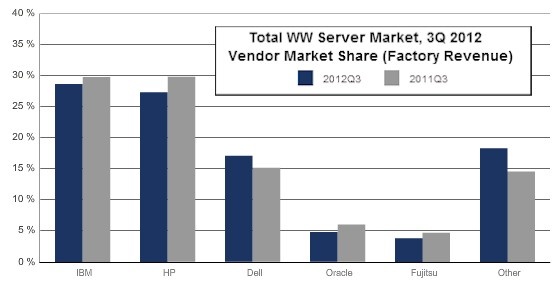 Dell, Cisco, Inspur, and Lenovo gained share and IBM, HP, Oracle, and Fujitsu lost it in the third quarter
As usual, the x86 server market continued to grow in the third quarter, according to IDC, but the growth was certainly not stellar. IDC reckons that 2.1 million x86 boxes left the factories of the world in the September quarter, an increase of 1.5 per cent that was helped considerably by the appetite of hyperscale data center operators for custom, density-optimized machinery.
Revenues for x86-based servers rose 2 per cent to $8.9bn. HP has 32 per cent of this x86 server pie, followed by Dell with 23.4 per cent (up a bit) and IBM with 16.5 per cent (down more than a bit).
In terms of form factors, rack servers still dominate, but blade servers raked in $2.1bn, up 2.9 per cent even as shipments fell 1.1 per cent year-on-year. About 91 per cent of blade revenues are derived from x86-based iron, which is a higher percentage than with rack machines.
The density-optimized machines that have come on strong in the past several years drove $693m in revenues in Q3, Jed Scaramella, research manager for enterprise servers at IDC, tells El Reg. That is 55.8 per cent revenue growth, driven by 74.2 per cent shipment growth to 223,568 units.
Here's the fun bit. If you take the density-optimized machines out of the data, then rack, tower, and blade machines together had revenues decline by 6.2 per cent to $11.5bn, and average selling prices fell by 2 per cent to $6,142 per box. The density-optimized machines had impressive revenue and shipment growth, but ASPs are lower (at $3,098 per machine) and fell by 10.6 per cent so they are now half, on average, of what the typical rack, tower, or blade server costs.
Add it all up, and IBM was the top server seller in the third quarter, with $3.5bn across all machines (down 7.6 per cent). HP took the number two position with $3.34bn (down 11.9 per cent), and Dell grew an impressive 8.2 per cent to $2.09bn and gained nearly two points of market share. Oracle ranked fourth despite its Unix system declines, thanks to the rise of the Exa "engineered systems", and brought in $588m in sales (down 23.1 per cent). Fujitsu rounded out the top five with $465m in revenues (down 22.2 per cent). Other vendors had a 20.7 per cent revenue bump, to $2.24bn.
The others are eating market share thanks to the growth of Cisco Systems, Inspur, and Lenovo in the server racket. Scaramella says that Cisco peddled 56,819 machines and brought in $419m in revenues, making it the number six player – that's 58 per cent revenue growth and 46.3 per cent shipment growth. Inspur closed some very big deals in China, and increased revenues by a factor of 2.7X to $131m for its 42,000 units, making it the number ten player in the world. Rival Chinese server maker Lenovo grew by 44.6 per cent selling larger boxes and more boxes overall, and hit $104m in sales, making it the number eleven server maker. ®