This article is more than 1 year old
PM demands media clean-up, not keen on doing much himself
Leveson report: Cameron unlikely to back legislation
Prime Minister David Cameron told Parliament this afternoon that he opposed any rush to legislate the press following recommendations put forward by Lord Justice Leveson on Thursday - but he added that newspaper barons needed to pull their finger out with self-regulation.
The PM repeatedly used the idiom of "crossing the Rubicon" with the fear of upholding freedom of the press in Britain being eroded. He said "we need to think carefully before we pass legislation in the House".
In effect, Cameron appeared to kick the idea floated by Leveson of independent regulation of the British press underpinned by legislation into the long grass.
He said that cross-party talks were needed and agreed with the chair of the media, culture and sport select committee - John Whittingdale - who urged hearings on the recommendations. Such confabs could take many months.
Cameron criticised Leveson's decision to make the self-regulatory side of his recommendations voluntary rather than compulsory. The PM warned that newspaper editors needed to quickly agree to independently sort the whole sorry mess out when it comes to the kind of gutter press tactics employed by some by implementing Leveson's recommendations quickly.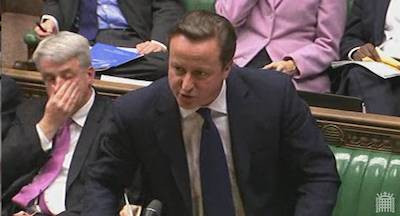 Prime Minister kicks up stink about Leveson's 'essential' legislation
"I favour giving the press a limited time to do this," he said.
But he declined to throw any weight behind legislation that would underpin such independent regulation and warned that he didn't want to see law being written that he seemed to consider to be, in effect, by the back door.
Cameron said at the top of his statement to the House that he was happy to see former Culture Secretary and current Health Secretary Jeremy Hunt exonerated in the report.
He said that claims that Hunt had tried to rig Rupert Murdoch's BSkyB bid had been "shown to be wrong".
The PM added: "[Hunt] endured a stream of allegations with great dignity," before chiming in with, "[The report] confirms we knew all along to stand by him."
Meanwhile, Coalition partner Nick Clegg told the House that he supported the establishment of the watchdog with legislative backing "in principle". He said he didn't want to turn the debate over Leveson's recommendations into "political football", but said the use of law would guarantee the independence of the proposed media regulator. ®