This article is more than 1 year old
The Lord of the Rings saga lies hidden deep in your Mac
Fun with FreeBSD, the Terminal, and OS X
As Hobbitmania continues to build in anticipation of the worldwide release of Peter Jackson's The Hobbit: An Unexpected Journey, OS X users can slake their thirst for Tolkien lore by firing up their Mac's Terminal app, typing  cat /usr/share/calendar/calendar.lotr  at the prompt, and hitting Return.
They'll then be treated to a lovely Unix easter egg: a Lord of the Rings timeline.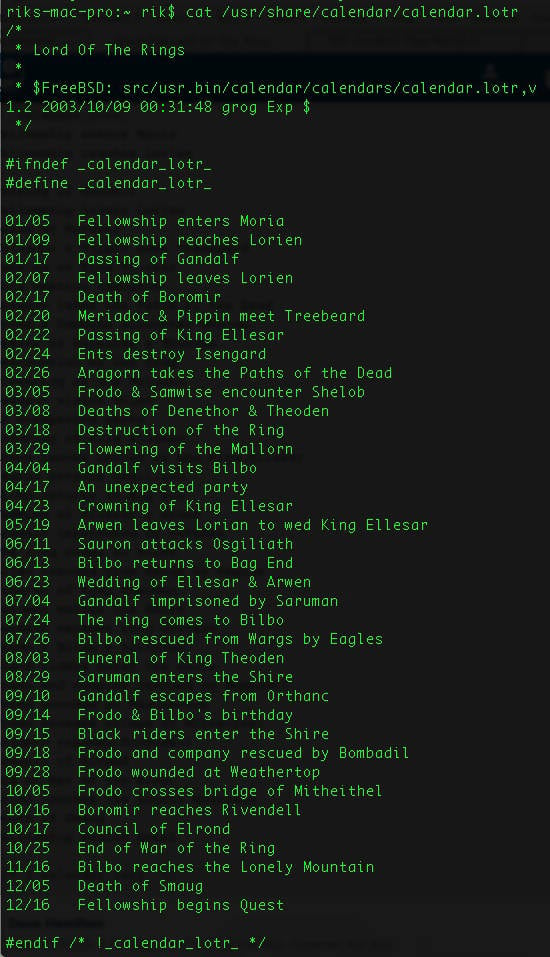 The OS X Terminal can reveal an LotR timeline (our Terminal's Profile is set to Homebrew – we're old-school)
Not being a devotee of all things Tolkienian, your humble Reg reporter can't vouch for tha veracity of this list – when exactly was Bilbo rescued from Wargs by Eagles, after all? – but we're certain that our readership will helpfully point out any inaccuracies.
We'd also like to hear from any of you who might know of other goodies hidden in FreeBSD, the underpinnings of OS X.
Our appreciation goes out to long-time Mac aficionado Dave Hamilton of The Mac Observer for this bit of geeky wizardry. Thanks, Dave. ®
Bootnote
The Hobbit: An Unexpected Journey premiered in Wellington, New Zealand on Wednesday – early tweets are generally positive – and will appear in the UK on December 13 and the US the following day. Our Polish compatriots, unfortunately, will have to wait until December 28 to enjoy Hobbit: Niezwykla podróz.