Kogoro Kurata, Japanese maker of strange machines, is selling ride-on mechanical monsters starting at £844,000, but you'll need to pay extra for the weapons and cup holder.
The Kuratas robot weighs in at 4 tonnes, and is 4 metres (13 feet) tall, so the pilot straps in at the head, ready to stride across the most desolate apocalyptic wasteland and do battle with combatants with equally disposable resources, though they'll have to make do with ball-bearing guns for the moment - until the real apocalypse arrives at least.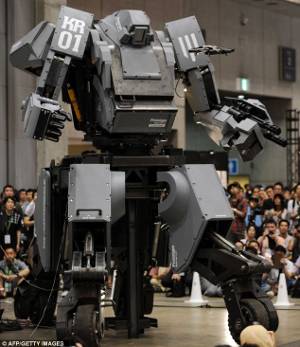 The four-wheeled, diesel-powered robot can be remotely controlled, but that will add $80,000 to the bill which might be better spent on smile-controlled Gatling Gun, firing 6,000 ball-bearings a minute, or a Lohas missile launcher which "lacks the ability to rotate or pivot" but fortunately is so inconsistent that "from time to time it will hit its target".
Leather trim will add $12,000, and it's important to keep $100 back for the aforementioned cup holder as one wouldn't want to be distracted by split coffee while grappling with Decepticons or similar.
There's a design console where one can select the preferred options, down to the colour scheme, and place an order, but there's also a promotional video showing the prototype prowling the streets of Tokyo which is much more impressive.
Taking to Reuters, Kogoro Kurata declined to say how many he's sold, though he's apparently had a lot of interest and a fair number of cancellations - presumably when their parents found out. But should anyone buy one, there's an instruction video ready to help them get a feel for their hardware.
When the world descends into chaos and mankind's only hope lies in huge, piloted, fighting machines, then those who bought one will be laughing while the rest of us are forced to pray that Godzilla turns up in time. ®
Similar topics